Proposed Bill Aims to Better Protect Homicide Case Witnesses in Rochester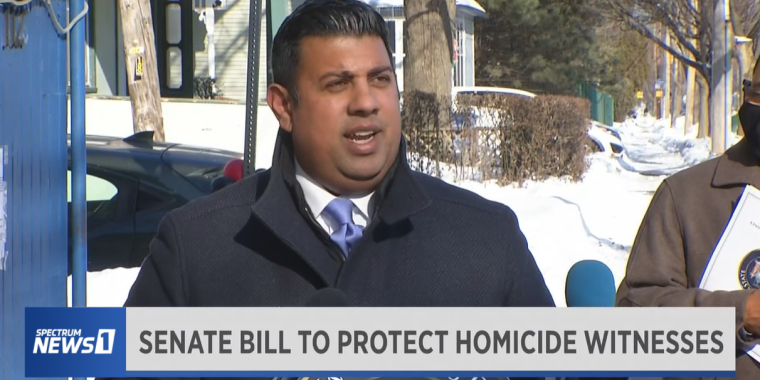 ROCHESTER, N.Y. — A bill introduced in the New York State Senate aims to better protect witnesses in homicide cases.
Sponsor of the Homicide Witness Protection Act, Senator Jeremy Cooney, spoke Monday outside of Gold More Mini Market, where a memorial stands for Julius Greer Jr.
The 14-year-old was shot and killed on Jan. 2 in Rochester's first homicide of 2022.
Cooney says only 53% of homicide cases in Rochester resulted in an arrest last year. He attributes that to witnesses fearing retaliation if they come forward with information.
If passed, the bill adds homicide crimes to the list of offenses for which the prosecution can withhold the disclosure of any 911 caller, victim or witness.
"Rochester needs bold leadership — at all levels of government — to address the alarmingly high homicide rate our city is facing," Cooney said in a statement. "My legislation is a first step toward empowering neighbors and law enforcement to work together to solve these deadly crimes and bring justice to the families who grieve. Families will never completely heal from their loss, but this legislation can help bring much needed closure for the victim's loved ones. No law can bring back a parent, sibling, or friend, but we must pass data-informed and common-sense bills that create safer communities, and help to ease the pain so many are feeling in our city and across New York State. I am committed to doing that work."
"The Rochester Police Department fully supports any legislation that helps to protect victims and witnesses of crimes," the RPD said in a statement. "In 2021, the City of Rochester tragically experienced the highest number of murders in recorded history. Legislation such as the "Homicide Witness Protection Act" is one of many steps needed to hold accountable the perpetrators of these horrific crimes. Victim and Witness cooperation is crucial to both arresting offenders as well as achieving successful prosecutions. We look forward to continuing to work with our community partners to make Rochester a safer place to live. The Rochester Police Department will continue working tirelessly to bring offenders of violent crime to justice."
The bill is currently in the Codes Committee of the New York State Senate.