Op-Ed from State Sen. Iwen Chu: The Fight for a Better and More Affordable CUNY System is Personal for Me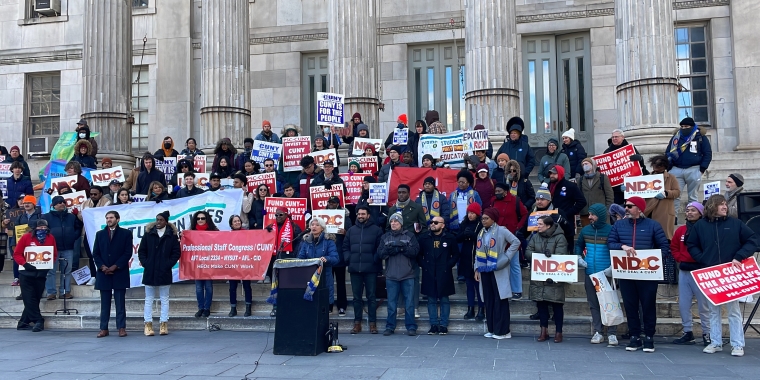 The City University of New York provides a quality education that's accessible to working New Yorkers from diverse backgrounds. I came to this country 18 years ago to earn a Masters degree in Sociology from CUNY Brooklyn College. Like so many students, I looked for a college with a top-notch reputation for quality education to expand my opportunities; a university with diverse faculty and staff, reflecting the mosaic of New York City.
I would take public transportation around New York City and see people from every corner of the world here. During my time at Brooklyn College, I fell in love with the city and earned a degree that ignited my passion for public service, eventually providing the opportunity to serve as the first Asian woman elected to the NYS Senate. Each year, thousands of students enroll at CUNY schools with the same vision and hope for the future and I believe they deserve the same opportunities.
I have seen firsthand how CUNY invests in people, in families, and our communities. CUNY is key to building social mobility — especially for students coming from low-income, immigrant, and minority backgrounds. I represent some of the most diverse neighborhoods in Brooklyn and it is not a surprise that my district has the greatest number of CUNY students. Many immigrant families come to this country for the great opportunities for their children and recognize CUNY as a path to a sustainable career. The fight to keep CUNY affordable and accessible to immigrant and working families is personal for me.
I am determined to help my constituents in Brooklyn and all New Yorkers access quality education and move up the social ladder. Our students are able to graduate and enter the workforce without the hefty burden of thousands of dollars in debt. They can pursue their passions and begin the transition to a career.
The key to CUNY's success is that, on average, tuition costs NYC students 84% less than private schools, allowing more students to attend college and start their careers without an overwhelming financial burden. Last year's expansion of TAP qualifications to part-time students made higher education even more accessible but the New Deal for CUNY goes further and creates a Tuition Reimbursement Fund, to fully reimburse in-state residents for tuition and fees.
The New Deal for CUNY invests in a livable wage for adjunct professors, which would provide our university system the means to hire and retain a competitive field of educators. The bill also increases staffing ratios for full-time faculty, counselors and academic advisors. Providing high-quality educators and advisors to guide students along their academic paths ensures success as many of these students were like me, the first in their families to navigate their way through the higher education system.
Finally, it requires the State to create a 5-year capital plan so students are learning in state-of-the-art facilities and aren't stuck in crumbling buildings and aging infrastructure.
For those reasons, and many more, we must continue to invest in our city universities and reduce barriers to higher education. On March 19, I was proud to join with the Professional Staff Congress Union, University Student Success and advocates at the CUNY March in March to call for greater investments to our public higher education system.
Our students, faculty and staff made their demands clear: New York State must invest in CUNY now. The future of our City and State relies on the resources and investments we put into public education. You can look no further for the success of CUNY's impact than my own story.