New York Daily News Editorial: The State Senate Passes Major Bills To Bring Accountability To The Judiciary And The Court System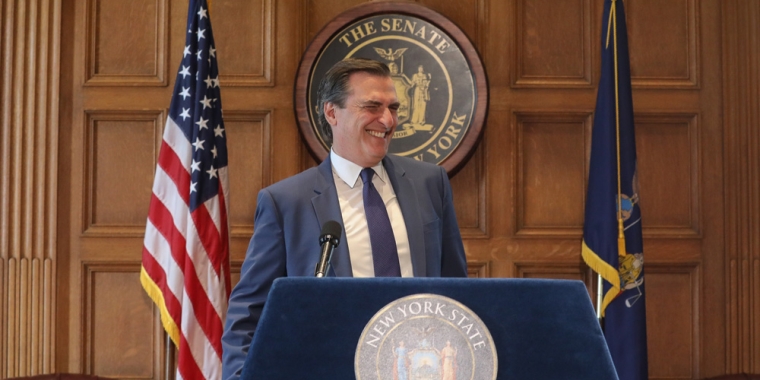 This column was very hard on the New York State Senate on how the Democratic-run chamber handled the ultimately failed nomination of Justice Hector LaSalle be the chief judge of New York and lead the Court of Appeals, particularly Majority Leader Andrea Stewart-Cousins, Deputy Leader Mike Gianaris and Judiciary Committee Chair Brad Hoylman-Sigal.
So today we want to laud the trio and the whole Senate for the outstanding series of bills they passed on Tuesday to promote transparency and accountability from the third branch of government. The Assembly must follow suit and get these reforms enacted into law. 
On a vote of 61 to 1, there was bipartisan support for finally empowering the state Commission on Judicial Conduct to make public any charges brought against a sitting judge and to also grant the commission the power to continue to pursue their probe should a judge resign or retire from the bench. As for the unnecessary secretness, ever since the agency was established following a 1977 vote of the public to amend the state Constitution, the panel has been limited because the law says: "The hearing shall not be public unless the judge involved shall so demand in writing."
Try to think of any criminal defendant or even a civil case defendant who wouldn't want that: keeping the proceedings against them totally secret until the final outcome. The commission has sought such a change for openness for decades and it has been supported by prior chief judges. It's on the Assembly now.
Another bill was unanimous was that judges' financial disclosure forms be posted online, like other state officials. Good idea.
Also great is to allow cameras in the courts. New York is the only state that prevents video and audio coverage of public court hearings. Every Republican joined on that one and it passed with only five dissenting Democrats. Donald Trump will have this day in court facing charges in Manhattan and the public should be able to see. Again, Assembly, please step up and turn on the lights.
Read the full editorial at the New York Daily News here.