Statement Regarding the Passing of New York State Senator Thomas Patrick Morahan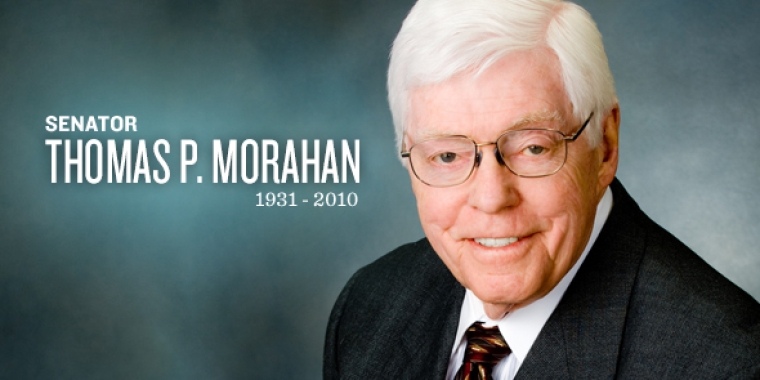 It is with great sadness that the staff of the 38th Senatorial District today announces the passing of New York State Senator Thomas Patrick Morahan, a highly respected New York State Legislator and a champion of mental health reform in the State.  Senator Morahan, 78, died at New York Presbyterian Weill Cornell Medical Center, after a six month struggle with Leukemia.  The Senator passed peacefully with his family at his bedside. For over 11 years, Senator Morahan represented the residents of Rockland County, as well as residents in the towns of Tuxedo and Warwick in Orange County. 
During his career in the New York State Senate, Senator Morahan effectively collaborated with colleagues on both sides of the aisle. Since his election in 1999, the Senator introduced 230 Bills, which were signed into law.  To date, 14 additional Morahan Bills have passed both houses and await the Governor's signature.
Senator Morahan was one of two Republican Senators to be asked by the Senate Majority to resume his service as Chairman of the Senate Committee on Mental Health and Developmental Disabilities, a committee where he championed many bills including Timothy's Law, landmark legislation that mandates mental health insurance parity in New York State.
Over the years the Senator received a numerous awards saluting his accomplishments and service. He was particularly proud of honorary degrees from Dominican College, St. Thomas Aquinas College, and most recently from Rockland Community College.
Senator Thomas Morahan was born on October 11, 1931 in the Bronx.  He was the youngest of four children. He attended Holy Family Elementary School and graduated from Cardinal Hayes High School.
 Senator Morahan served his country during the Korean War, and served with the US Army Flash Ranger Battalion, attaining the rank of Staff Sergeant. 
In 1952, Senator Morahan married Helen Killion. In 1963, they moved to Rockland County where they resided in the Town of Clarkstown and raised seven daughters. Over the years the Morahan's were blessed with seventeen grandchildren. 
Senator Morahan built a successful career in the public utility sector.  From an entry-level lineman at New York Telephone Company, Morahan advanced through the ranks, attaining senior level executive management positions. After four decades of service he retired from the telecommunications industry. Shortly thereafter, he was recruited as a senior level manager at Orange and Rockland Utilities.
Senator Morahan began his community service as a member of the Clarkstown Zoning Board of Appeals. In 1977, he was elected to the Rockland County Legislature.  In 1980, his constituents elected him to represent them as a Member of the New York State Assembly.  In 1984, Morahan returned to the Rockland County Legislature. In 1996, he was unanimously elected to serve as Chairman of the Rockland County Legislature.  An editorial in The Journal News characterized him as "the most effective chairman in the Legislature's history."
In a special election in 1999, Thomas P. Morahan was elected to fill the unexpired term of retiring State Senator Joseph Holland. 
Click Here for Information on Funeral Arrangements.
Governor directs Flags to be Flown at Half-Staff in Honor of Senator Morahan