Senator Fuschillo Announces Senate Confirmation of New Department of Transportation Commissioner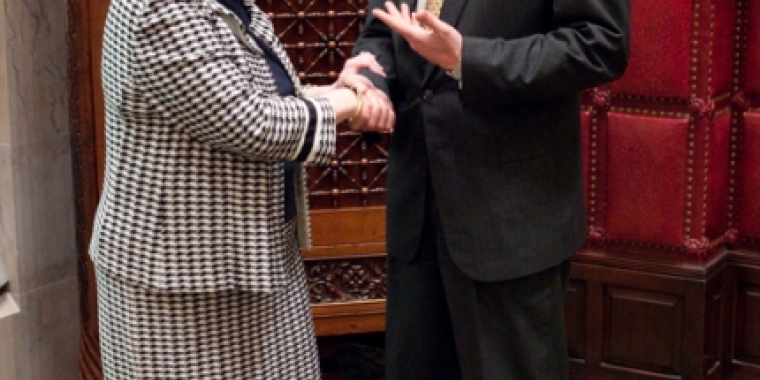 Senator Charles J. Fuschillo, Jr. (R-Merrick), Chairman of the Senate's Transportation Committee, today announced that the New York State Senate has confirmed Joan McDonald as Commissioner of the New York State Department of Transportation.
          "Commissioner of the Department of Transportation is a position which carries enormous amount of responsibility, because millions of people depend on our transportation infrastructure every day to get to and from work, conduct business, and go about their lives. Commissioner McDonald has a strong background and bring a wealth of professional experience to her new position. I commend Governor Cuomo on his choice of Ms. McDonald, as she is well qualified to lead the Department of Transportation. I look forward to working with Commissioner McDonald in her new position," said Senator Fuschillo.
         Prior to her confirmation by the Senate, Senator Fuschillo chaired a Senate Transportation Committee examining Ms. McDonald's qualifications and professional experience.
          Ms. McDonald brings a wealth of professional experience to her new position. She previously served as the Commissioner of the Department of Economic and Community Development for the State of Connecticut and Chair of Connecticut Innovations, an authority providing venture capital to high tech start-up companies. From 2003-2007, she was the Senior Vice President of Transportation for the New York City Economic Development Corporation. Her private sector experience includes five years as the Vice President in charge of New York and New Jersey at Jacobs Engineering.
          Ms. McDonald was Deputy Commissioner for Planning & Traffic Operations for the New York City Department of Transportation from 1995-1998 and served as the Director of Capital and Long Range Planning for the MTA Metro-North Railroad for the three years prior to that. She served as Special Assistant to the Speaker of the New York State Assembly from 1991-1992. She began her career in public service with the New York State Assembly in 1978, serving in various capacities on the Ways and Means and House Operations Committees, including Deputy Budget Director and Assistant Director of Research. Ms. McDonald received her undergraduate degree in English at LeMoyne College in Syracuse, NY; she has a Masters degree in Public Administration from the John F. Kennedy School of Government at Harvard University.
          Senator Fuschillo is pictured speaking with Commissioner McDonald on the floor of the State Senate following her confirmation.
                                                                                              ####