LaValle: Technologies Being Developed at Stony Brook University and Brookhaven National Lab May Hold Solution to Storm Communication Woes.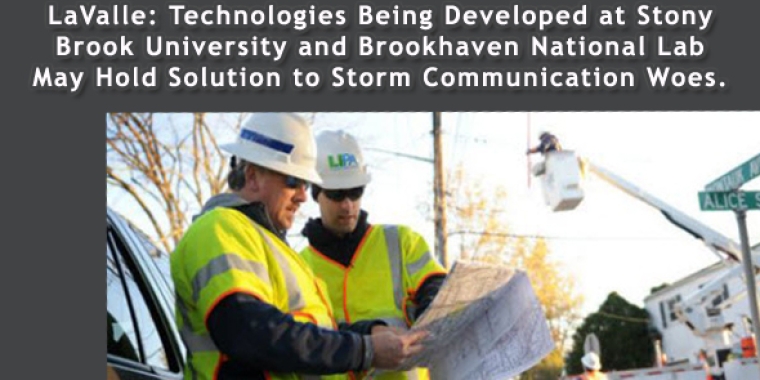 Mount Sinai, NY, December 04, 2012 -- New York State Senator Kenneth P. LaValle, Chairman of the New York State Senate Committee on Higher Education will be joined by representatives from the Long Island Power Authority (LIPA), Stony Brook University, Brookhaven National Laboratory, National Grid and PSE&G for a 2-hour roundtable discussion (closed to media) about the obstacles encountered during Hurricane/Super storm Sandy and how technologies being developed by Stony Brook's Center of Excellence in Wireless and Information Technology and Brookhaven National Laboratory may be of help in the future. Senator LaValle said the discussion will focus on existing resources at Stony Brook and Brookhaven National Lab that may help LIPA (or any utility facing a similar disaster) with communications during and after a devastating weather or other event.  Senator LaValle wants to unite public sector regional resources with the private sector to find helpful solutions to the problems that were highlighted during and after the historic storm.
         The roundtable discussion will be immediately followed by a news conference and statement from Senator LaValle and others on Friday, December 7, at 11:15 AM in the lobby of the Center of Excellence in Wireless and Information Technology, Stony Brook University Research and Development Park,  1500 Stony Brook Road,  Stony Brook, NY 11794.
Roundtable discussion participants (developing):
New York State Senator Kenneth P. LaValle

Dr. Samuel L. Stanley Jr., MD, President of Stony Brook University
Dr. Yacov Shamash -- Vice President for Economic Development and Dean of the College of        Engineering and Applied Sciences at Stony Brook University
Ann-Marie Scheidt, Director, Economic Development at Stony Brook University
Dr. Satya Sharma, Executive Director, CEWIT
Dr. Arie Kaufman, Chair, Department of Computer Science at Stony Brook and Chief Scientist,    CEWIT
Dr. Eugene Feinberg, Department of Applied Mathematics & Statistics at Stony Brook
Dr. Sam Aronson, Director Brookhaven National Lab
Dr. Gerald Stokes – Associate Director, Brookhaven National Lab
John J. Zborowski, PSE&G Project Manager for the Transmission and Distribution Transition
Bob Catell -Chairman of the Advanced Energy Research and Technology Center (AERTC) at Stony Brook,  formerly the Chairman and Chief Executive Officer of KeySpan Corporation and KeySpan Energy Delivery, the former Brooklyn Union.
Predrag Vujovic, Director of Transmission and Distribution Planning -- LIPA
Michael J. Deering, Vice President of Environmental Affairs – LIPA
 Robert Rowe – National Grid, Director, LIPA Smart Grid
Bel Pagdanganan – National Grid