On the beam: Senator Murphy congratulates Mahopac gymnasts for second straight title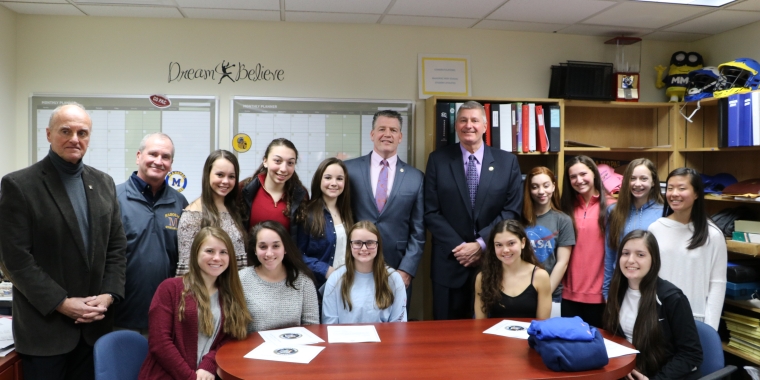 MAHOPAC, NY -- Mahopac High School Varsity gymnasts had a Valentine's Day to remember on February 14th when they won the Section 1 gymnastics title with an impressive score of 167.375 points. It was the second straight year the team won the Section 1 title. Senator Terrence Murphy has always appreciated anyone's effort to set the bar higher for themselves, so it was a fitting moment when he presented Coach Vincent Collins and Athletic Director Ron Montaldo with proclamations congratulating the team for their stellar season.
 
"This is an incredible accomplishment you should all be proud of," said Senator Murphy. "You faced difficult odds, but through dedication, drive and discipline and by supporting each other, you won a championship. You are an inspiration to teams across the State. Congratulations!"
 
Callie Johansen, who earned the Section 1 title with a 37.175 score, also won the balance beam title.  The first place finish was business as usual for Callie, who also won the scoring title in 2016. As a result of her continued excellence, Callie won a spot on the state team that will participate at the New York State Public High School Association championship on March 4th at Cold Spring Harbor High School. Balance beam specialist Sydney Hughes and vault specialist Cassie Traina were also named to the team.