Felder & Yeger Praise Touro College VITA Program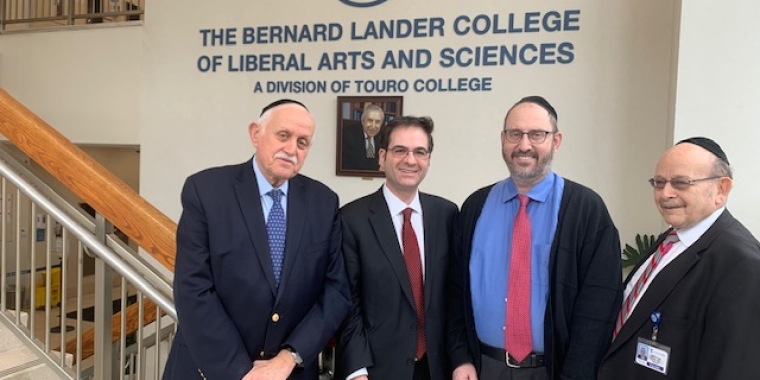 Touro College LAS is once again providing free tax preparation and electronic filing services in English, Yiddish, Hebrew, Russian, Spanish, French and Portuguese, to assist low income tax payers. The Volunteer Income Tax Assistance Program (VITA) is available to individuals and families earning up to $59,000 to assist with Federal and NYS income taxes. Services are provided by IRS-Certified accounting students under the academic supervision of Dr. S. Bienenstock, Deputy Chair of Accounting, and the administrative coordination of Senior Advisor, J. Zilberberg.
"Taxes are high enough. We want you to keep as much of your hard earned money as possible," said Senator Felder. "If you have concerns about the new tax codes and filing your taxes correctly, you don't have to worry. For the ninth consecutive year, the exceptional student volunteers at Touro's VITA program are here to help you."
"Touro's VITA program is a valuable resource to the community, serving low income New Yorkers with professionalism and courtesy. It is another outstanding example of Touro College's commitment to excellence and community values," said Councilman Yeger.
"Touro College is the only VITA Program providing this free service on Sundays to accommodate our clients' work schedules. Last year our program generated approximately $350,000 in rapid refunds, servicing approximately 500 clients in 8-weeks. This year, our volunteers have already served over 200 clients," said Dr. Robert Goldschmidt, Touro College Vice President.
"VITA serves several goals for us," explained Professor Bienenstock. "It gives our students real-world experience in tax preparation; it allows students to interact with the diverse population of New York, and helps us fulfill Touro's mission of giving back to the community."
There are many reasons why so many people find tax preparation challenging and stressful. Tax codes are complicated, filled with unfamiliar lingo, and change from year to year. Many people fear paying too little and triggering an audit. Others are concerned that their calculations will add up to owing the government more than they withheld. Just one deduction or tax credit can impact results substantially.
"Taxes are certain, but worrying about them shouldn't be," concluded Senator Felder.
Located at Touro College, 1602 Avenue J, free tax services are available on Sundays through April 7, from 10 am to 1 pm, no appointment necessary. You must bring certain paperwork and documentation, for details call Touro VITA at 718-252-7800 extension 59286 or Senator Felder at 718-253-2015.