Kaplan's Small Business Eviction & Foreclosure Moratorium Signed Into Law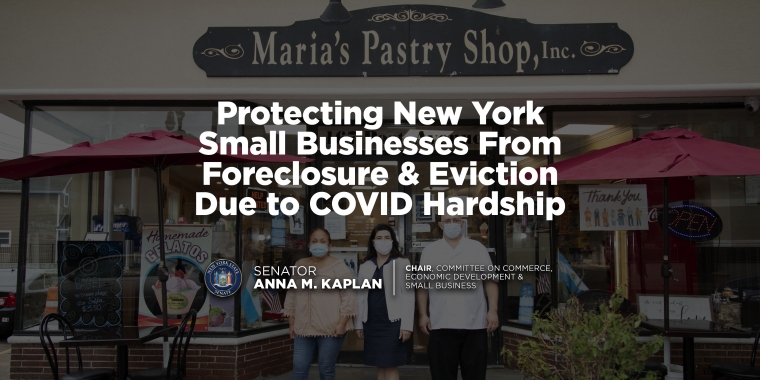 Legislation (S471A/A3207) Establishes Eviction Protections for Small Businesses with Under 50 Employees That Demonstrate a Financial Hardship
Legislation Establishes Foreclosure Protections for Small Business Landlords with 10 or Less Units
CARLE PLACE, NY (March 9, 2021) - Today, Governor Andrew M. Cuomo signed legislation by Senator Anna M. Kaplan that will protect New York small businesses struggling due to the COVID-19 pandemic from the threat of foreclosure or eviction until May 1, 2021.
Chair of the Committee on Commerce, Economic Development and Small Business, and bill sponsor Senator Anna Kaplan said, "Our small businesses have been hit hard by the pandemic, and they need our help if they're going to survive these challenging times. The COVID-19 Emergency Protect Our Small Businesses Act, which I'm proud to have introduced, will hit the pause button on eviction and foreclosure proceedings for small businesses that are struggling, giving them a shot at survival, and giving them the opportunity to get back on their feet without the looming threat of being closed down for good just because they've fallen behind during the pandemic."
The COVID-19 Emergency Protect Our Small Businesses Act, s.471, will:
Prevent Small Business Evictions: The bill creates a commercial eviction moratorium for small businesses of 50 or fewer employees through May 1, 2021, and creates a standardized hardship declaration form to be used by tenants and landlords in order to take advantages of the protections offered by the legislation.
Protect Against Small Business Foreclosures: The bill creates a moratorium on commercial foreclosures of small businesses of 50 or fewer employees that have 10 or fewer properties that they are renting.
Prohibit Negative Credit Reporting and Discrimination in Extending Credit: The bill provides tax lien protections and negative credit reporting protections to small business property owners.

Additionally, following negotiations between the Legislature and the Governor, there is agreement to expand the protections in this legislation to include additional business owners and landlords suffering financial hardship, and that will be accomplished with further legislation.
When the amended legislation is signed into law, the agreement will expand protections to small businesses with 100 or fewer employees, and to any business with 500 or fewer employees that was closed to in-person operations by executive order or department of health directive for two or more weeks between May 15, 2020 and May 1, 2021.
The legislation takes effect immediately.
related legislation