Senate Passes Deputy Leader Gianaris Bill Banning Retail Sales Of Dogs, Cats, And Rabbits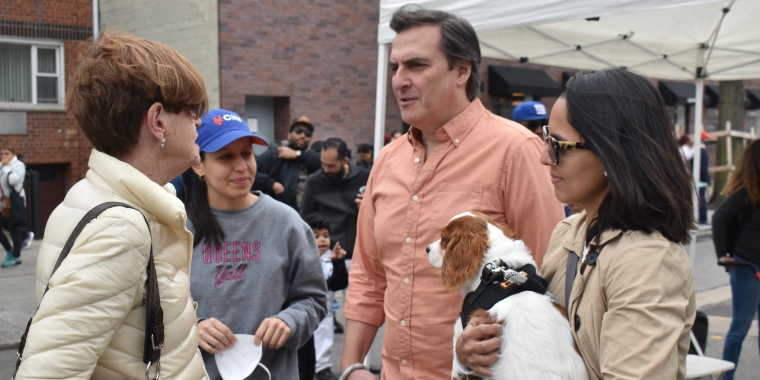 ALBANY – Senate Deputy Leader Michael Gianaris announced the State Senate passed his legislation (S.1130/A.4283) banning the retail sale of animals in pet stores. The bill aims to shut down the puppy mill-to-pet store pipeline, cutting off one of the largest markets in the nation for animals bred for pet stores. You can watch Senator Gianaris' full floor speech on the bill here.
Senate Deputy Leader Michael Gianaris. "I am pleased this important proposal continues to advance in the legislature."
"With so many good animals in need of rescue, there is no need for puppy mills that abuse animals to supply pet stores. Our four-legged companions should be treated with respect, not like commodities," said 
Most of the animals available for sale in pet stores come from notorious dog, cat and bunny mills, which are known to be inhumane. Offspring of mill animals often have congenital issues resulting from poor breeding and can cost families thousands of dollars in veterinary care.
Pet breeders and stores are loosely regulated under the Animal Welfare Act by the United States Department of Agriculture (USDA). Recent investigations revealed, however, that under the Trump administration, USDA inspectors have been less aggressive in enforcing these regulations. In addition, the USDA is issuing fewer serious violations that would ordinarily trigger swift follow-up by the agency.
 According to the New York State Department of Agriculture and Markets, the state agency tasked with regulating pet dealers, there are approximately 80 pet stores registered throughout the state.
The bill, which first passed the Senate last year, is also advancing in the State Assembly, where it was passed through committee yesterday.
Assembly Member Linda B. Rosenthal (D/WF-Manhattan), Chair of the Committee on Social Services said, "It's no secret that puppy mills breed cruelty, but many people still do not realize that when you buy an animal from a pet store, you are unwittingly supporting puppy mills. The vast majority of dogs, cats and rabbits sold in New York State pet stores come from factory-like mills and we have seen countless families duped into paying top dollar for sick animals from these stores/ Over the years we have tried to regulate pet stores, but the industry continues to prioritize profits over the welfare of animals. The only way to finally shut down puppy mills is to end the puppy mill to pet store pipeline, and I am so pleased that the State Senate passed this bill sponsored by State Senator Gianaris. Stores that sell live animals are a dying breed while the pet supply industry is a multi-billion-dollar business. With 77 cosponsors in the Assembly, I look forward to this bill soon becoming law."
 Matt Bershadker, ASPCA President and CEO said, "Having one of the country's highest concentrations of pet stores that sell puppies, New York State needs to end the sale of cruelly bred puppy mill dogs in pet shops by finally passing the New York Puppy Mill Pipeline Bill.  Shutting down the puppy mill pipeline will help stop retail sellers and commercial breeders from engaging in—and profiting from—unconscionable brutality. We are thrilled to see the Senate pass this bill, and we look forward to working with Senator Gianaris and Assembly Member Rosenthal to advance the bill through the full Legislature to make it law, signaling New York's determination to reject animal cruelty statewide."
Brian Shapiro, New York State Director for the Humane Society of the United States said, "New York's remaining pet stores are undeniably joined at the hip with puppy mills. Consumers flatly reject puppy mill cruelty and these retail outlets need to stop selling sick, mill-raised pets in our state. The HSUS applauds Senator Michael Gianaris and Assembly Member Linda B. Rosenthal for their steadfast commitment to this legislation and other meaningful animal welfare and consumer protection issues."
Robyn Hederman and Rebecca Seltzer, Co-Chairs, New York City Bar Association Animal Law Committee said, "New York has a long and proud tradition of protecting animals through its laws. This bill is no exception. It targets the cruel commercial breeding of dogs, cats, and rabbits; further, the bill promotes animal adoption, and protects consumers and the environment. The New York City Bar Association's Animal Law Committee applauds the Senate for moving the bill one step closer to passage."
Libby Post, Executive Director, New York Animal Protection Federation said, "New York can no longer by complicit in animal abuse. As long as we allow the flow of puppies, kittens and rabbits into New York State from mills across the country, we will be. Senator Gianaris and the NYS Senate understand this—they've made the Puppy Mill Pipeline Bill a priority and have now passed it during three legislative sessions. It's time for the NYS Assembly to heed the call and get this bill done."
related legislation