"Almost Home Animal Rescue and Adoption, Inc." receives the NYS Senate Empire Award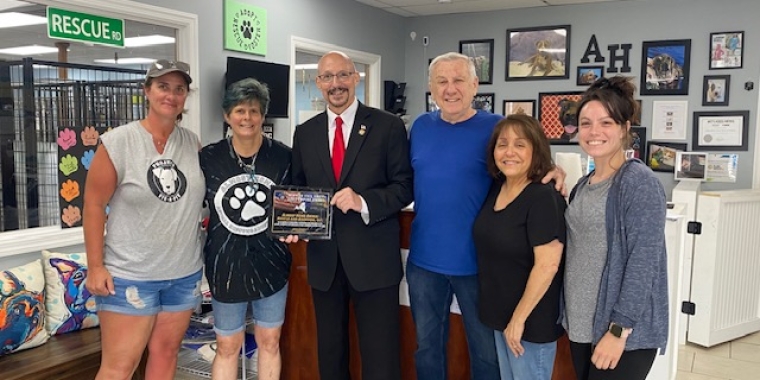 (East Patchogue, NY) – A Patchogue animal rescue organization has been recognized by NY State Senator Dean Murray (R,C), for their excellent work with pet rescues and adoptions. Senator Murray presented the New York State Senate Empire Award to Linda Klampfl, the founder of "Almost Home Rescue & Adoption, Inc.," who was joined by members of her staff and several volunteers. 
     Almost Home's mission is to rescue animals and re-home unwanted and abandoned dogs and cats from private homes and municipal shelters, and place them in responsible homes.  The staff and volunteers are the lifeblood of the organization.  Besides rescues and adoptions, Almost Home goes into the community working in economically challenged areas to offer assistance and resources to pet owners in need.  Their "Training Wheels" program facilitates a bond between owner and pet while preventing over population by providing no cost spaying and neutering in areas where it is not easily accessible.  They also provide an education program for children to help them become more humane pet owners.  "As a pet owner and animal lover, I am proud of the work that "Almost Home Rescue and Adoption" does, and it is my privilege to present them with the NYS Senate Empire Award," said NYS Senator Dean Murray, 3rd Senate District.