Public Forum on Lyme and Tick-Borne Diseases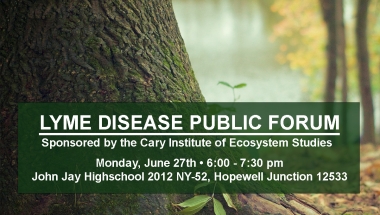 John Jay High School
2012 NY-52, Hopewell Junction Auditorium
East Fishkill, NY 12533
With 'tick-season' in full swing, Senator Sue Serino, Chair of the NYS Senate's Taskforce on Lyme and Tick-Borne Diseases  (TBDs), will host a public forum on the issue next Monday, June 27th from 6:00-7:30pm at John Jay High School in Hopewell Junction.
The forum will feature presentations by leading experts to help raise awareness for the issue and provide community members with the information they need to protect themselves, and their families, from Lyme and TBDs as they enjoy outdoor activities throughout the summer. The event will also feature a question and answer segment during which members of the audience will have a chance to ask a panel of experts their most pressing questions on the issue.
The public forum is being generously sponsored by the Cary Institute of Ecosystem Studies, a leading body in Lyme and Tick-Borne Disease research and will feature a presentation by the Institute's Lead Scientist, Dr. Richard Ostfeld.
The event is free and open to the public.
Senator has new policy idea

Idea is drafted into a Bill

Bill undergoes committee process

Senate and Assembly pass bill

Bill is signed by Governor