Think You Know Ticks? Think Again.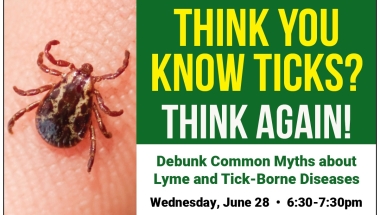 Wallace Center at the FDR Presidential Library and Museum (Multi-Purpose Room)
4079 Albany Post Rd
Hyde Park, NY 12538
With an unprecedented amount of misinformation being circulated—especially on the internet—concerning ticks, the diseases they may carry, and ways to remove them from yourself, your family members and your pets, ensuring local community members have accurate information is critical.
Senator Sue Serino, Chair of the NYS Senate's Task Force on Lyme and Tick-Borne Diseases invites you to join her for a unique public forum where experts will be on hand to debunk dangerous myths and ensure that you and your family have the most up-to-date and accurate information available to help you stay tick-free throughout the upcoming months.
This free event will be held on Wednesday, June 28thfrom 6:30-7:30pm in the Multi-Purpose Room at the Henry A. Wallace Center at the FDR Presidential Library and Home (4079 Albany Post Rd, Hyde Park).
With Hudson Valley communities considered to be the epicenter of the Lyme and Tick-Borne Disease epidemic, and experts predicting that this year we could see a dramatic spike in the number of Lyme-carrying ticks, the event is especially important.
Local media is encouraged to attend and spread help spread the word.
-30-
Senator has new policy idea

Idea is drafted into a Bill

Bill undergoes committee process

Senate and Assembly pass bill

Bill is signed by Governor