SENATOR MARTINS CONGRATULATES PLANDOME TROOP 71 EAGLE SCOUTS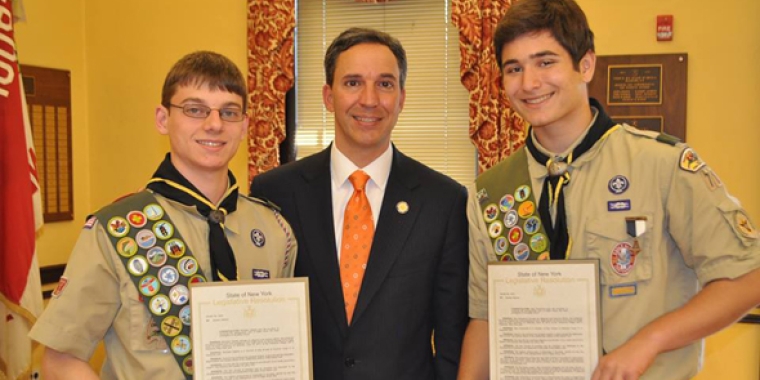 Senator Jack M. Martins attended an Eagle Cout of Honor for Plandome Troop 71.  The Court of Honor was held in honor of scouts Alex Comerford and Nick Cataldo, who both reached the prestigious level of Eagle Scout, which is the highest rank a Boy Scout can achieve.
The rank of Eagle Scout represents years of hard work and dedication, leadership and a committment to community service. "One of my favorite events to attend is an Eagle Cout of Honor because it gives us the opportunity to recognize young men that are our future leaders. Each time I attend, I am impressed by the commitment and hard work these young men put into reaching their goal," Senator Martins said. "Congratulations to Alex and Nick.  They have such bright futures ahead of them and this is an achievement that will serve as a foundation for all of their future success."
Senator Martins presented Eagle Scout Comerford and Eagle Scout Cataldo with official New York State Senate Resolutions that were passed on the floor of the New York State Senate, recognizing their impressive and prestigious achievement.