Squadron Votes to Reject Two Non-Resident Appointments to Battery Park City Board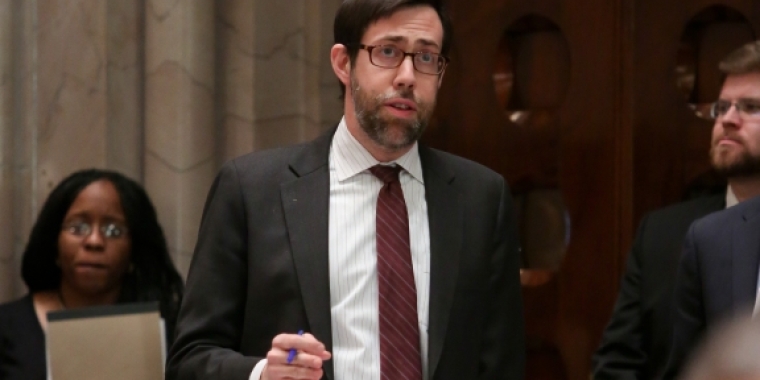 Sen. Urges Local Resident Representation in Local Governance
ALBANY – State Senator Daniel Squadron spoke on the Senate Floor (video) on the urgent need for local residents to be appointed to the Battery Park City Authority Board, voting against the appointments of non-residents Louis Bevilacqua and George Tsunis, and in favor of long-time community leader and former Community Board 1 Chair Catherine McVay Hughes:
"Battery Park City was 92 acres of water that is now 92 acres of land. Unfortunately, the Battery Park City Authority, with its seven members, has and will have after this appointment zero residents of Battery Park City on it. It is a basic principle that in local governance you have a local voice, and in Battery Park City that is sorely lacking. All seven appointees are made by the Governor. Over the last two years, every elected official in the area has written to the Governor to ask for actual Battery Park City residents to be appointed to the board. It is critical when we talk about a local governance body like the Battery Park City Authority that we have a local voice," said State Senator Daniel Squadron in his floor speech (full video here).
"The idea that zero out of seven would be residents is simply unacceptable. It's why I, along with Assemblymembers Glick and Niou, have been pushing legislation to ensure a resident voice on the Battery Park City Authority. It's legislation I continue to hope will pass this year. At the Roosevelt Island Operating Corporation, every single member is a resident of Roosevelt Island. It is simply not right that these appointments are considered anything other than a local voice for a local community that needs to be governed. I urge my colleagues to join me in the interest of local representation for a local community," continued Squadron.
--
Squadron also spoke on the need for resident appointments in the Senate Finance Committee (video) proceeding the Senate Floor vote. Last week, Squadron wrote to Governor Cuomo (letter attached), urging the appointments of Mr. Bevilacqua and Mr. Tsunis be rescinded, in favor of local residents, joined by every local elected official representing the area. He also sponsors (S130A) to require at least two Battery Park City residents on the board, along with Assemblymembers Glick and Niou.
related legislation