"TIME: The Kalief Browder Story" Doc Highlights Sen Squadron's "Kalief's Law"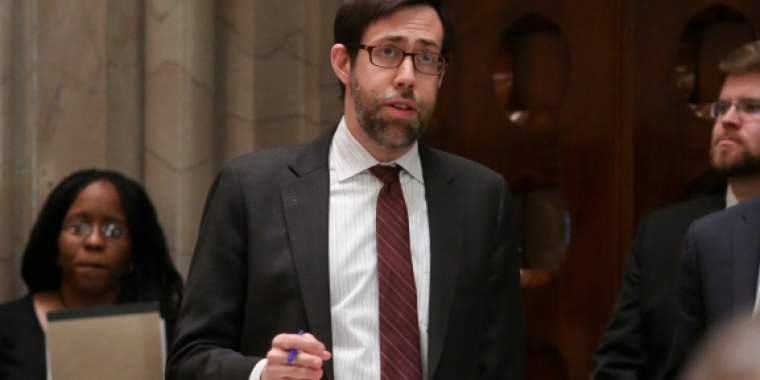 Six Part Spike TV Docu-series Focuses on Kalief Browder
Squadron Urges Senate Majority to Act on Urgent Need to Fix Speedy Trial Crisis
NEW YORK – State Senator Daniel Squadron, sponsor of "Kalief's Law" to address New York's speedy trial crisis (S.1998-Squadron/A.3055A-Aubry), highlighted the measure in last night's conclusion to the six-part Jay Z/Weinstein Company-produced TIME: The Kalief Browder Story airing on Spike TV. Last night's episode can be viewed online here (Kalief's Law discussed at the 1:12 and 10:12 minute marks).
"TIME highlighted the tragic consequences of a broken system. That system let down Kalief, it let down his family, and continues to let down New Yorkers across the state," said State Senator Daniel Squadron. "Kalief's story must inspire Albany to act and fix this broken system. It's time to fix New York's speedy trial crisis and raise the age, once and for all."
Squadron filed a motion earlier this month to force the New York State Senate Majority to allow a committee vote on Kalief's Law within 45 days. Kalief's Law would fix New York's broken 1972 "ready rule," which allows trials to be delayed indefinitely by tying mandated speedy trial deadlines to trial "readiness." While the State Senate Majority has not acted on the measure, the Assembly passed Kalief's Law for the second time, this time unanimously, earlier this session, and included the measure in their budget proposal. 
Kalief Browder was a young man accused of stealing a backpack who spent over 1,000 days in pre-trial detention at Riker's, approximately 700 days in solitary confinement, before his case was dismissed. Kalief maintained his innocence throughout, and ultimately committed suicide. TIME: The Kalief Browder Story is a six-part documentary series telling Kalief's story, airing on Spike.
---
Squadron introduced the measure following Kalief Browder's death, and has previously written about the measure in the Daily News and New York Times, and to the New York City Council.
###
related legislation