Housing Committee Votes on 1st Steps for COVID-19 Rent Relief & Home Mortgage Forbearance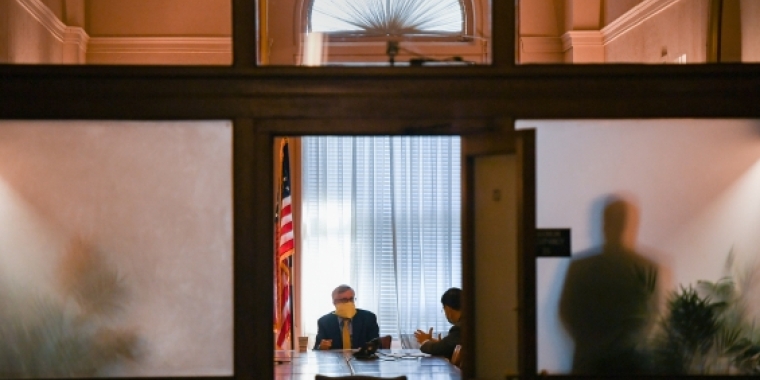 On Tuesday, May 26, 2020, the Senate Committee on Housing, Construction, and Community Development convened for the first time since the COVID-19 state of emergency began in March. Chair Brian Kavanagh, Ranking Member George Amedore, and Committee member Liz Krueger appeared in person in the Capitol in Albany, while other members attended and voted online by accessing a video feed and utilizing voting sheets. The Committee approved two bills that will begin to provide housing-related relief to New Yorkers who have experienced financial hardship during the state of emergency. 
Bill S8243C, sponsored by Kavanagh, Senator Todd Kaminsky, and 16 other Senators, and by Assemblymember Nily Rozic in the Assembly, would strengthen and expand residential mortgage forbearance. The bill would give homeowners the ability to extend the life of their mortgage by the length of the forbearance or spread deferred payments out over the life of the mortgage. This relieves homeowners of the need to catch up on missed payments immediately at the end of the forbearance. For example, if a mortgage is scheduled to end in June 2040 and the borrower foregoes six months of payments, the mortgage could be extended to December 2040.
Bill S8419, the Emergency Rent Relief Act of 2020, also sponsored by Kavanagh, and by Housing Chair Steve Cymbrowitz in the Assembly, would allocate up to $100 million in Coronavirus Aid, Relief and Economic Security (CARES) Act funding already appropriated to the State by the federal government. The ERRA program would offer rental assistance to some of New York's renters with the greatest need for four months of the COVID-19 public health and economic crisis. This program is a preliminary step toward addressing the much larger problem: the huge number of New Yorkers who are unable to pay rent because they've lost jobs or income. New Yorkers would be eligible for this relief if they made less than 80% of the median income in their area before March 7, they have experienced a loss of income, and their rent was more than 30% of their income both before and during the state of emergency.

The Committee approved S8243C and reported it to the Rules Committee, and approved S8419 and reported it to the Finance Committee.
related legislation