Black History Month Roundtable Focuses On Economic Development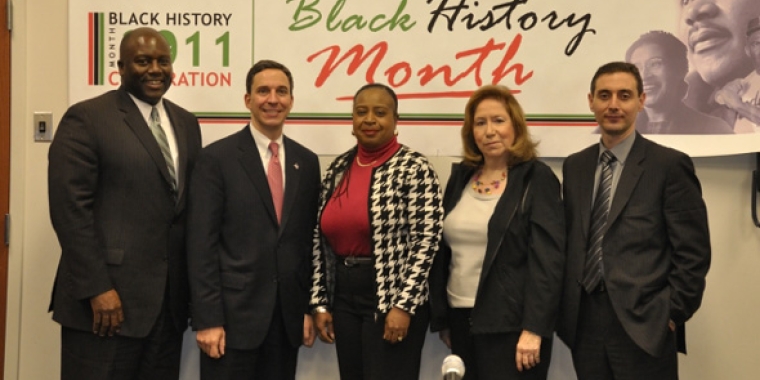 From Elmont.org
Ceremony honors the lives of African-Americans, past and present
The Round Table discussion at the Eighth Annual Black History Month Celebration, presented by Elmont Online and Highlighting Success, Inc., drew attention to a significant topic: Economic Development in Elmont. Moderated by Scott Cushing, a member of the 2011 Black History Month Committee, the discussion spanned Elmont's potential, its progress to date, and the community's challenges.
As in past years, the second half of the celebration, "A Collaboration of Song and Spoken Word," included the presentations of the Seventh Senate District Martin Luther King, Jr. Awards and the prestigious Dr. Carter G. Woodson Award, presented this year to Dr. Marsha Darling, professor of History and Interdisciplinary Studies and director of the African, Black and Caribbean Studies Program at Adelphi University. The celebration featured music and dance, as well as poignant and thought-provoking recitations.
Noting the community's visioning efforts, Senator Martins said, "Let's consolidate around that vision that this community has for itself. Now there's a need not only on the state government, but also at the local level to stop talking about redevelopment and revitalization and actually start moving ahead on certain projects." He mentioned the stalled Lighthouse project at the Nassau Coliseum site, adding, "But think, the next viable place where there can be a concerted effort for revitalization is right here. Elmont has the infrastructure in place that is unique because it doesn't exist in other areas. The Lighthouse site has no mass transit and greater density may potentially harm the area. But look at Elmont, you do have mass transit; you do have the available train station that could get you into Manhattan in 20 minutes. You have a community that is looking for opportunities to redevelop and provide for greater density in the housing and retail markets. We have the ability to do it right here. Let's dare to make change on our terms as we move forward. Let's talk and meet with zoning boards and those who are going to have control over zoning, and let's bring representatives of the Town in and let's start moving this project forward so we can actually introduce developers to this area, meet with people from Belmont and NYRA and talk about how we can develop the southern end of Elmont."
Although the Coalition for Sustainable Development brought together 600 people and got the Town and County activated, Smith finds that not enough elected officials have open minds to new ideas in the places where Elmont needs them. "It's been difficult to get people to understand that change is not always bad. If they are open to thinking outside the box, then what we are asking them is not so impossible. We have some elected officials that we are pulling along kicking and screaming, but we refuse to let their ankles go. Now we have Senator Martins who is willing to go out and say I support this community and what it is looking for. That's the engine we need to get the community energized and know that this is not a forgotten issue. We are ready to put the shovel in the ground."
Bringing in private capital
Scott Cushing asked Tallini why Elmont is a good place to develop and what needs does he see? Tallini, who has experience in drawing plans and developing sites, said, "If this community really wants to transform itself, provide jobs—paying jobs for its residents and its children—then we need to have private capital invested in significant sums." In large part, he said Elmont's answers won't come from Albany or Mineola or Hempstead; government doesn't have the money necessary to transform the community." He posed the question: What environment do we have to create so that private capital can come? "It's simple," he said, "Private capital is invested where it can receive the best return. If it doesn't get the best return, it will go someplace else." He added that when private capital left areas of Long Island and went someplace else, so did the jobs that went with it. So if you really want to reinvent this community, this County, this Island, and provide support not only for the people, but also for the schools and taxpayers, we need to solicit private capital and create the environment where it feels comfortable and can get a return." Secondly, he acknowledged that it's very difficult to get anything done on Long Island. "I'm a perfect example," he stated. "We had a project with large community support, mixed use, smart growth, an award winner; everybody was in favor. We got it to a certain point and it was denied. That capital went someplace else. What environment do we have to create to bring that capital back in? If we can answer that question, we can begin to solve some of our problems."
Public-private partnership
"I think the mantra today is going to be public-private partnerships," remarked Bennet. "Although you can have all the money you need for a project, it still needs to get the COs, the code compliance, licenses from the local municipalities. It's going to have to be a partnership." He added, "We have to start in small steps. Organization is the first step; meetings like this are one step closer. Other meetings should be set up. People need to be working in the background. Then you'll arrive at the goal much faster, because you've done the work."
"Your Elmont Online is a vehicle, a railway for communication" for attracting business to the community, remarked Bennet. He encouraged Elmont Online to seek that type of thing. "When you're on the Internet, the whole world is watching. Instead of Yellow Pages, create a listing online."
Senator Martins added that residents become involved in development when they can understand that it's real. "There has to be a public-private partnership, but the public part of it doesn't necessarily mean spending money. It means facilitating the process, putting the means in place whether it's zoning changes or maybe an overlay district. Government partnership can simply be making the process viable. We have to understand that as we provide opportunity for people to invest in our community, we do so with certain controls and certain restrictions in place. But we have to give them an opportunity to make a return or they're not coming in. Government plays a crucial role, not only in terms of spending taxpayer's money, but also in providing leadership."
Cohen interjected that the core group of activists in a community has to sell the program and in doing so, people will become involved and progress will be made. Bennet suggested that everyone play the roles in which they are most comfortable, whether it is speaking out or meeting with the Senator, and everyone should get to know county, state and federal representatives. "Martins is a stand up, straight shooting guy. There should be a line asking him how we can do this, how can I help. Then you're really engaging in a partnership."
Quality, sustainable development and storefront churches
In order to create the vibrant community, Tallini said we have to look at communities that are vibrant. He suggested that mixed uses, such as apartments above retail stores, create vibrancy on the sidewalks and entice people to come in. He added that storefront churches actually are properties that are taken off the tax rolls and there's no contribution to expanding the tax base. "We should be looking to expand the tax base to create vibrant development on Hempstead Turnpike."
"There's nothing in economic development that's anti-religion," said Smith. "However, the tax money has to come from somewhere. Assemblyman Alfano helped create an Empire Zone on Hempstead Turnpike, but the churches came in and defeated the purpose to expand the tax base. We are constantly looking for a way to increase the tax base so people can stay and live here."
"A deteriorating community will not come back on its own," noted Senator Martins, adding that community participation is needed. "The great equalizer in our society is education. It gives our children the opportunity to grow outside their environment and aspire to higher ideas. In Mineola, we brought in the major stakeholders, the Chamber of Commerce, civic associations, the PTA, schools, hospitals. It takes a lot of work."
In closing remarks, the panelists shared their views on Black History Month and empowerment.
"Black History Month is not really a month," remarked Cohen. "Let's look at the trajectory between Dr. King and President Obama. Obama realized much of that dream." As a minority community, Smith added, "Elmont cannot let others define who we are, so our struggle is to continue to fight to make sure that our community becomes and stays the community we want it to be."
"We spend a considerable amount of money educating our children, but many of them leave and never come back," noted Tallini. He offered that the community needs to develop its density, mixed use and affordable, workforce housing. "We need jobs, high paying jobs. We have to give them a reason to stay. If we really want to execute ideas in the vision plan, then we have to answer some of those questions."
Senator Martins recalled a quote from Dr. King: Hope for a day where a person would be measured not by the color of their skin, but by the content of their character. "It really speaks to what we are talking about today and strive for as a society," he noted, stressing that children should be reminded every day to look at each other as equals based on the contents of their character.
"Diversity drives innovation," remarked Bennet. "The more you get a diverse community the better the ideas. When we celebrate Black History Month, we also celebrate great Americans." And he ended with another quote from Dr. King: I am not what I ought to be until you are what you ought to be" … and he added, "until Elmont is what Elmont ought to be."
Collaboration of Song and Spoken Word
In her welcoming remarks, Black History Month Celebration Chairperson Allyson Phillips noted that the observance of Black History Month is an annual celebration of achievements by Black-Americans and a time for recognizing the central role of African-Americans in US history. "One of the reasons we meet each year in celebration is to be witness to the lives of the individuals we honor, past and present," she said. "It is our mission, in part, to ensure their contributions are not lost in the public discourse. And so, we are grateful for the efforts of all who have made this celebration possible."
The prestigious Dr. Carter G. Woodson Award was presented to Dr. Marsha Darling whose impassioned efforts on behalf of women and the African, Black and Caribbean communities in America has been her life's work. She has been an active public scholar, a panelist, moderator and speaker in many varied venues, and is an active member of Habitat for Humanity's Women Build Team.
Former Elmont Superintendent of Schools, Dr. Maria Palandra, said she was pleased "to honor a distinguished scholar, a woman of courage and conviction, a woman whose actions are seen in her writing and also in beautiful homes she builds." She acknowledged the importance of the day's event as a way to make children and young adults aware of people who have done great things with their lives. She added, "You must know how moved I am to be part of this event and to congratulate this wonderful, distinguished spectacular woman."
In addition to the presentation of the Woodson Award, special thanks went to Sandra Smith and Scott Cushing who were presented with certificates and a copy of "The Miseducation of the Negro" (published by Dr. Woodson in 1933).
Senator Martins presented the Dr. Martin Luther King, Jr. Excelsior Awards to a group of outstanding leaders and young people, including: Marvin Lee, Tyrone St. Louis, Kevin Johnson, Dillon Williams, Qusarn Caldwell, Goldie Harrison and Brian Wint.
Rounding out the program were performances by the Elmont Jazz Masters, Elmont Jazz Choir, the Sewanhaka District Chorus, and the C.W. Post Concert Dance Company. Honoring the spoken word, original works were performed by One4Five.