Daily News: NY Lawmakers Introduce Bill to Create New Housing Vouchers for the Poor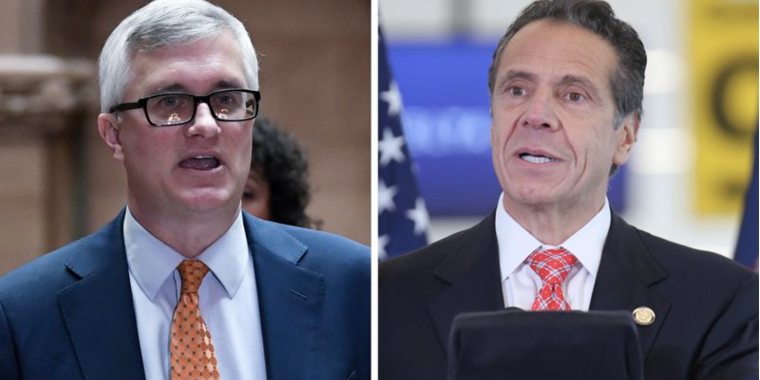 On February 4, 2020, Michael Gartland of the New York Daily News published a story about Senator Kavanagh's bill (S7628A/A9657A) that would establish a rental assistance program for New Yorkers who are homeless or at risk of becoming homeless. The full text of this story is below; the original version is available at the link above.
_______________
NY Lawmakers Introduce Bill to Create New Housing Vouchers for the Poor
By: Michael Gartland
February 4, 2020
Albany lawmakers are pushing for a new state-managed housing voucher program to assist the homeless and those at risk of becoming homeless.
Their proposal, laid out in a bill submitted Monday night in both the Assembly and state Senate, would cost up to $6 billion a year if fully funded, according to a key supporter.
Cea Weaver, the campaign coordinator for Housing Justice for All, said the key difference in this voucher proposal compared to other housing subsidies is it would be administered through housing agencies, not social services agencies.
That means it would not be directly contingent on whether recipients get welfare, and would instead be directly tied to a household's income level. It would also give undocumented immigrants the ability to receive the subsidy and better ensure housing quality.
"This voucher is going to be a lot better in getting people stably housed," she said. "It's going to be a lot more flexible for people who can't afford their rents."
To be eligible, people would have to be either homeless or in imminent danger of losing housing and with an income level "no more than 250% of the federal poverty level," according to the Senate version of the bill.
The bill's sponsor, Sen. Brian Kavanagh (D-Manhattan), said the goal is to create a statewide voucher program modeled on federal Section 8 vouchers, which is widely regarded as effective.
"I think of this program as filling a major gap," he said.
Kavanagh said he hopes to secure "hundreds of millions of dollars" for the program in the current budget cycle. "There's an enormous need," he added.
Gov. Cuomo's administration offered a more neutral response. One officials said that rent subsidy programs often perpetuate the cycle of homelessness
"The Governor proposed the largest investment in supportive housing in state history and continues to advance his unprecedented $20 billion plan to build more than 100,000 affordable homes and 6,000 new units of supportive housing," said Cuomo spokesman Rich Azzopardi. "We'll review this plan, but as the governor said it's not just about the money, it's how you spend the money, and we're going to mandate local governments come up with real workable strategies before we fund them."