Senator Salazar In The News: Bed-Stuy's Woodhull Hospital Hosts Painting Party for New Mural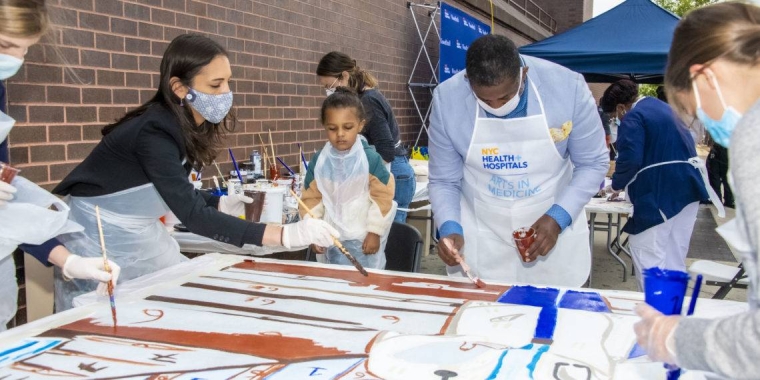 Last week, local leaders, community members and Woodhull Hospital staff rolled up their sleeves, put on their painting gear and picked up their brushes to work on a new community mural.
The mural is being painted on an exterior wall of NYC Health and Hospitals WoodHull Hospital in Bed-Stuy.
Flatbush artist Imani Shanklin Roberts was chosen by New York City Health and Hospitals' Arts in Medicine program to lead the community-based project that falls under the theme 'Healthcare Heroes' Resilience and Strength Through COVID-19.'
On Friday, Roberts facilitated the community painting workshop, attended by hospital staff, community members and local electeds, including Senator Julia Salazar and Council Members Antonio Reynoso, Robert Cornegy and Mathieu Eugene.
Roberts said the mural was based on the connections between the hospital staff and their community, with the workers fueled by the support they received.
"The purpose of this mural is to show the resilience, perseverance and trust this community has in each other.
"I also want the mural to inspire hope and show the extreme diversity in this community. I think it is super important to show the hospital is a melting pot of people, just like the neighborhood that surrounds it."
Woodhull Hospital CEO Gregory Calliste said the hospital team was excited for the completion of the mural, which will, "demonstrate our commitment to the community and convey the message that NYC Health and Hospitals Woodhull is a healing and unifying force dedicated to bringing patients, staff, businesses, residents and community organizations together."
The official mural unveiling will be on October 8.