City Limits: What New York's Latest Eviction Protections Mean for Renters and Landlords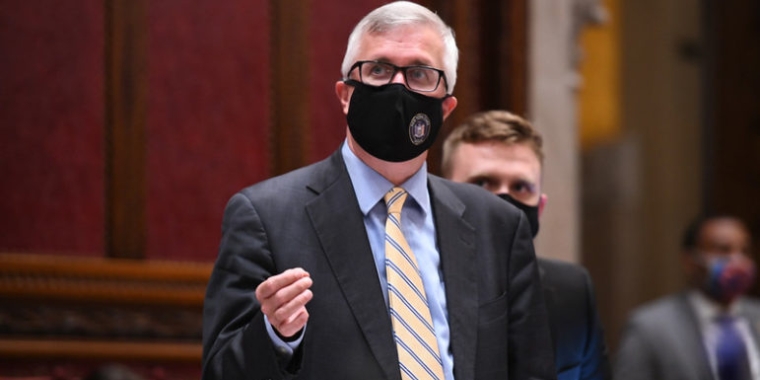 New York lawmakers voted Wednesday to reestablish a far-reaching eviction freeze that will keep most tenants housed through mid-January as the state gradually sends billions of dollars in rental relief to property owners.
Gov. Kathy Hochul and Democrats in the State Senate and Assembly say the legislation will comply with an August U.S. Supreme Court decision that struck down a core component of New York's earlier protections that allowed renters to  automatically halt eviction proceedings by submitting a "financial hardship declaration" form in court. The new measure, a modified version of the COVID-19 Emergency Eviction and Foreclosure Prevention Act (CEEFPA), allows landlords to challenge those declarations in court, effectively forcing judges to determine whether a tenant was economically or medically impacted by the COVID crisis. 
The law, billed as New York's latest "eviction moratorium," replaces earlier protections that expired Aug. 31 but had been gutted by the Supreme Court ruling last month. It is not a blanket ban on evictions, but will protect tens of thousands of renters at risk of losing their homes while the state ramps up payments to property owners under its rent relief initiative, the Emergency Rental Assistance Program (ERAP), lawmakers and tenants' rights advocates say. The extension expires Jan. 15, 2022.
"The legislation we passed seeks to give New Yorkers the ability to pay their rental or mortgage arrears, stay in their homes, and give them the ability to recover from this health and economic crisis," said Assembly Housing Committee Chair Steven Cymbrowitz.
Landlord groups vowed to challenge the measure in court, charging that the protections violate property rights and do not comply with last month's Supreme Court decision.
"This is blatant contempt of SCOTUS' order," said Rent Stabilization Association President Joseph Strasburg, whose organization represents 25,000 landlords. "Albany lawmakers can't decide which part of the Supreme Court order they follow and which part they ignore, or which parts they determine are valid and which they can disregard."
The RSA said Thursday that it plans to challenge the new moratorium in the Second Circuit Court of Appeals next week in an effort to block it from taking effect, arguing the measure would amount to a "a death warrant" for small landlords, whose tenants will be "nearly two years behind in rent" by the time the measure expires in January.
Nevertheless, many property owners are set to benefit from the new legislative package, which will add $250 million in state and federal funding to ERAP to increase outreach and cover additional property owners, like landlords who live in jurisdictions that opted out of the state program. Tenants who apply for ERAP are able to halt their eviction cases while giving their landlords a chance to recoup lost rent revenue. 
The pot of money, initially funded with $2.7 billion, mostly from the federal government, covers back rent for tenants affected by the pandemic who earn less than 80 percent of Area Median Income (AMI)—$95,440 for a family of four and $66,880 for an individual in New York City.
The new law will direct $250 million to landlords whose tenants earn more than 80 percent of AMI or otherwise do not qualify—including $125 million in state funding for property owners' whose tenants have left their apartments without applying for ERAP.  Many property owners have complained that federal rules prevented them from accessing ERAP money if their tenants left or have not applied.
As of Aug. 23, the state's Office of Temporary and Disability Assistance has administered just over $200 million in ERAP money to 15,548 landlords while committing another $600 million to specific property owners. But those amounts make up just a fraction of the total sum, prompting widespread criticism and two legislative hearings on the program's slow rollout. The state and the firm contracted to run the program, Guidehouse Inc., missed various benchmarks and struggled to get the program off the ground, City Limits reported last month.
Ellen Davidson, a supervising attorney in Legal Aid's Housing Unit, said the new package provides strong protections for tenants and property owners while jumpstarting ERAP.
"They really tried to address the problems the tenants were having, the problems the rent relief program was having and then to address the concerns of landlords whose tenants have left," Davidson said. "I think it's going to fix problems with the rent relief program while keeping people in their homes and I think it's going to avoid a rush to courts with people having to appear in person while the pandemic is still going on."
Tenants are not automatically protected from eviction, however.
Under the measure, tenants could still receive an eviction order if a judge decides that they did not experience the COVID-19 hardship that they claimed, or if they did not submit the form in court. But even those tenants could benefit from the additional mandatory hearings instituted by CEEFPA in an already congested housing court system. 
The legislation spurred lengthy debate on the Senate floor Wednesday, with Republicans arguing that the moratorium gives cover to  "lazy" renters who  lack  "personal responsibility." 
"Most New Yorkers don't want to evict people.They don't want to go through the hassle of it. They don't want to disrupt people's lives," said Sen. Pamela Hemming, a Republican representing small towns surrounding the Finger Lakes. "This body keeps extending the eviction moratorium and they're doing very little to move the [ERAP] money out."
The tenant protections "are hurting real New Yorkers," she added. 
Senate Housing Chair Brian Kavanagh defended the measure in response to criticism from his Republican colleagues, citing the need for it during a historic public health and economic crisis. 
"Rates of transmission are high in almost every part of the state," Kavanagh said during debate on the senate floor. "These moratoria have always been about protecting the health of New Yorkers."
"The courts are open to anyone who wants to challenge the hardship declaration," he added.
More than 830,000 New Yorkers owe back rent, according to an analysis by the research group National Atlas Equity, but it is unclear how many actively litigated eviction cases are ongoing in New York City and state. 
Prior to the pandemic, New York's Office of Court Administration (OCA) estimated that there were 50,000 such cases. Current case records do not necessarily paint a clear picture, said OCA spokesperson Lucian Chalfen. 
"A large number of landlord-tenant indexes are resolved outside of court without the court being informed, so it may appear open for a good length of time in our records even though it is not being actively litigated," Chalfen said.
The Supreme Court decision striking down New York's eviction freeze did not result  in a surge of new cases. There were 3,514 eviction cases filed statewide—including 2,151 in New York City—between Aug. 13 and 31, according to OCA. 
That is roughly the same rate as the previous six weeks. There were 9,337 eviction cases filed between July 1 and Aug. 12, OCA said.
Since March 13, 2020, the patchwork eviction protections instituted by the state court system, governor and state legislature have managed to protect tens of thousands of people from losing their homes during the pandemic.
There have been fewer than 50 residential evictions in New York City since March 13, 2020, compared to 17,000 in 2019—a number that was already lower than previous years.
"Over the last 18 months, eviction moratoria at the State and Federal level saved thousands of homes and prevented the spread of COVID-19," said Housing Justice For All organizer Cea Weaver. "This victory belongs to the housing movement."

###