New York Times: Battery Park Monument for Essential Workers Paused After Protests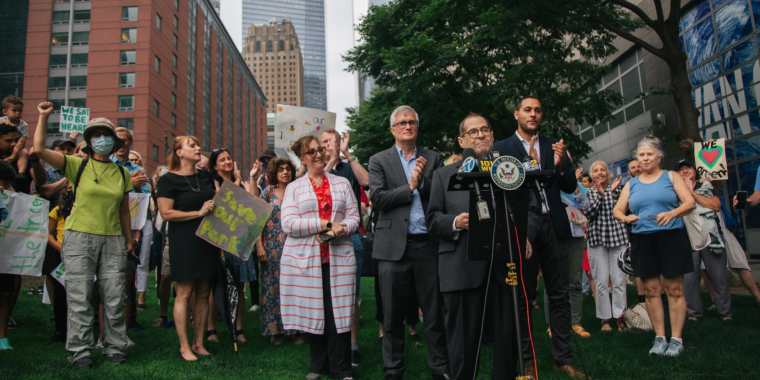 Ashley Wong reported for the Times on the news that after weeks of protesting by residents, community leaders, and local elected officials, the monument that was proposed—without a thorough community engagement process—will be paused until the relevant stakeholders can weigh in. The full text of the article is below; the original is available via the link above.
_______________

Battery Park Monument for Essential Workers Paused After Protests
Residents had pushed back at Gov. Andrew Cuomo's plans for a tribute to essential workers in Battery Park City.
By Ashley Wong
July 12, 2021
After weeks of protests that included an overnight camp, Battery Park City residents were told Monday that plans to build a monument there for essential workers had been paused amid demands for more community input.
A monument was still in the works, but the state would establish an advisory committee with community residents and leaders to help pick the monument's location and design, said George Tsunis, the chairman of the Battery Park City Authority, which oversees public spaces on Manhattan's Lower West Side.
"Over the past two weeks we have heard two things clearly and consistently: the love that our community harbors for its parks and public spaces, and its desire to honor the enduring efforts of essential workers over the course of the COVID-19 pandemic," Mr. Tsunis wrote in a statement Monday.
Gov. Andrew M. Cuomo announced in June plans to build a tribute at Rockefeller Park to essential workers in the coronavirus pandemic, with the goal of wrapping construction by Labor Day. The initial version of the monument was approved by a Cuomo-appointed advisory committee, which consisted primarily of union leaders for essential workers such as nurses and firefighters.
That announcement was immediately met with outcry from Battery Park City residents, who said the decision had been made without consulting them.
Many also criticized the design of the monument, which initially consisted of 19 new trees, pavement that would replace some lawn space, and an "eternal flame." Residents said they feared losing valuable green space for their families, and some raised issue with the environmental cost of a nonstop open fire.
A new proposal from the Battery Park City Authority last week to move the tribute near the neighborhood's Irish Hunger Memorial was also met with outrage.
Representative Jerrold Nadler, a Democrat who represents parts of Manhattan and Brooklyn, announced at a rally on Monday that the Battery Park City Authority had officially put plans for the monument on hold.
More than 50 Battery Park residents had gathered under cloudy skies outside the Irish Hunger Memorial alongside local leaders like State Senator Brian Kavanagh, Tammy Meltzer, chairperson of Manhattan Community Board 1, and Assemblywoman Yuh-Line Niou, as Mr. Nadler made the announcement to raucous cheers and applause from the crowd.
The project was no longer expected to be completed by Labor Day, Mr. Tsunis said in his statement.
"We want grieving families of lost essential workers to know that Battery Park City respects their sacrifice and contribution but B.P.C.A. residents feel strongly and potential litigation by residents would further extend the process," he said.
A spokesman for Mr. Cuomo referred to Mr. Tsunis's statement in response to a request for comment.
Residents attending the rally Monday were overjoyed by the announcement, with some saying they were pleasantly surprised by the strength of local political leaders' response. Others were happy that the community's residents were able to unify so quickly.
"We've never actually been very organized. This was the catalyst to do that," said Kelly McGowan, 58, a member of the Battery Park City Neighborhood Association and one of the residents who camped in Rockefeller Park overnight to protest construction. "We got everything we wanted and nobody raised their voice. No arguments, no yelling."
In response to questions over whether the community's response amounted to a "not in my backyard" attitude, several residents at the rally said their concern was less about the location of the tribute and more about the lack of transparency from the state about the construction process.
"That's always a right and proper question for folks to ask," said Eric Gyasi, 38, an attorney who spoke for the neighborhood association at the rally. "What we feel as a community is we would just like to have an opportunity to be part of the decision-making process. We respect and value our essential workers of all stripes."
"We wanted to have a monument that was befitting of the sacrifices that they made," Mr. Gyasi added.