Spectrum News: Kingston Tenant Accuses Landlord of Trashing His Belongings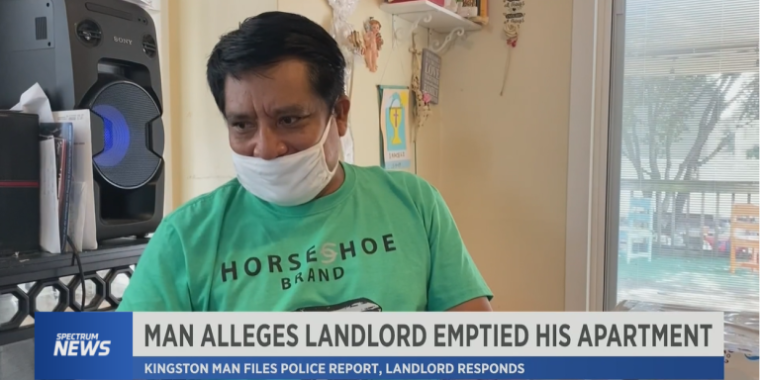 Demecio Lopez said he recently returned to the home he had been renting on Wall Street to nothing.
Lopez said his clothes, furniture, birth certificate, vaccination card, his life savings and even his toothbrush were gone when he arrived last Friday night.
"It's a pain that stays, but I have to be strong," Lopez said in Spanish of his tenuous housing status. "I was thinking he [the landlord] was going to respect the laws of New York."
Lopez does not believe his landlord, Alberto Villa, respected tenant protection laws, so Lopez called the police.
What You Need To Know
In video taken by an activist, a landlord is heard telling a Kingston police officer that he threw away most of his tenant's belongings
Housing activists are supporting the tenant, who is pressing charges
Kingston police's next move is unclear, but guidance sent to all police departments states a landlord removing a tenant's belongings without a court proceeding should be charged as a misdemeanor

In video taken by an activist with immigrant advocacy group For The Many, Villa is seen confirming to a Kingston police officer that he threw away most of Lopez's belongings.
"Do you know where Mr. Lopez's stuff is?" the officer asked Villa.
"It's in the garbage ... I threw them away," Villa replied.
Reached by phone Wednesday, Villa said Lopez was a "bad tenant" and "an animal." Villa said Lopez mistreated his property and that after many warnings, Villa decided to take his own action.
"I don't know what the law's about or how the law was designed one or two years ago," Villa said, "but he's destroying my property. I don't think that's right."
Citizen Action of New York Legislative Director Rebecca Garrard said that according to 2019 tenant protection laws, a landlord cannot simply empty out a tenant's living space without going through law enforcement and local courts.
"It doesn't matter what the landlord's immediate needs were," she said Thursday. "There are legal mechanisms that are outlined for how he can address problems he believes he has. He does not have the authority to take matters into his own hands."
For landlords looking to remove a tenant, options are limited due to the state's eviction moratorium and tenant protection laws.
State Senator Brian Kavanagh, who chairs the Senate's housing committee, said a landlord can take action against a tenant for sanitary or safety reasons only after obtaining permission from a judge.
"Landlords should know that it's illegal to put somebody out of their homes without a court process," Kavanagh said Friday via Zoom. "I think most landlords have understood that. We changed the law in 2019 as part of the Housing Stability and Tenant Protection Act to clarify that, and it is now a class A misdemeanor."
It remains unclear what Kingston police will do next in the case, though guidance sent to all police departments from the state indicates a landlord removing a tenant's belongings without court proceedings should be charged as a misdemeanor.
Though two separate reports were taken, Lopez said he is still waiting on a return call from the Kingston police officer who is combining details from reports into one report.

###