Long Island Pet Store Sued By NY AG For Selling Sick Puppies To Customers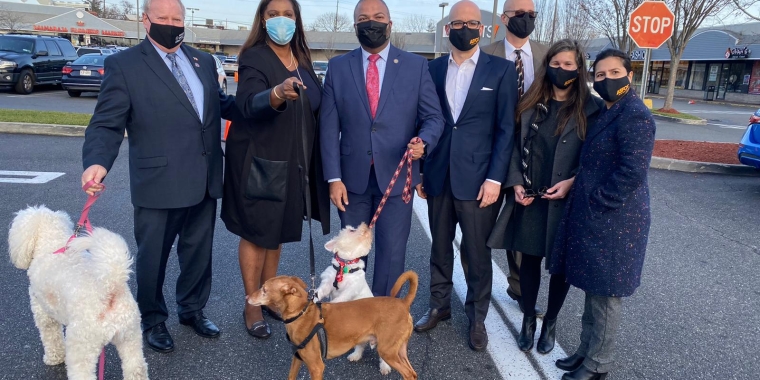 New York Attorney General Letitia James is pulling no punches in going after a Long Island pet shop that allegedly unlawfully and deceptively sold sick puppies to customers.
James announced that she has filed a lawsuit against pet store Shake A Paw for unlawfully selling multiple sick or injured dogs at its Long Island locations in Hicksville and Lynbrook, both in Nassau County.
According to investigators, Shake A Paw:
Falsely advertised sick pets as healthy;
Fabricated health certificates;
Failed to disclose the animals' legitimate medical conditions;
Misrepresented puppies' breeds;
Refused to reimburse consumers for veterinarian bills when they lodged complaints with the company.
in addition to the lawsuit, James also filed for a temporary restraining order against Shake A Paw to protect the puppies currently in their care on Long Island.
"Shake A Paw's actions of deceiving consumers into purchasing sick or injured dogs is unconscionable and illegal," James said. "My office's thorough investigation uncovered a series of violations by Shake A Paw that defrauded consumers and found sick puppies that came from dangerous puppy mills."
The investigation into Shake A Paw was launched after James' office received multiple complaints from customers regarding the puppies they got from the store.
Several puppies were also suffering from serious illness and congenital defects, displaying visible signs of illness at the time of sale, despite receiving health certifications signed off by Shake A Paw's contracted veterinarians, oftentimes days before the sale.
Of the 408 records reviewed of puppies sold at Shake A Paw locations, more than half were infected with parasites; 52 percent presented coughing, sneezing, an upper respiratory infection, or breathing problems, and nearly 10 percent were diagnosed with pneumonia.
In addition, the Attorney General's Office reviewed 113 Shake A Paw records, out of which 67 — nearly 60 percent of the health certificates — were issued between zero and 19 days prior to sale.
"It is reprehensible that Shake A Paw would exploit the trust of consumers to make a profit while risking the health and safety of puppies," state Sen. Kevin Thomas added. "Not only were consumers lied to about the origins of their pets, but also the health and wellness of the beloved animals they were bringing into their homes."