New York adds Lunar New Year as public school holiday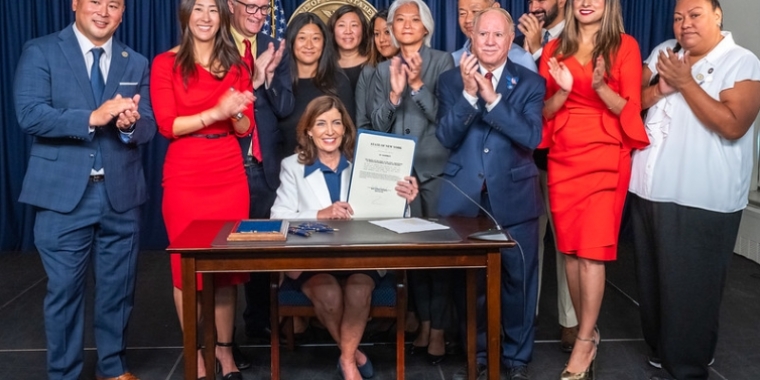 The Lunar New Year will now be observed in all public schools in the state of New York, following legislation signed by Gov. Kathy Hochul.
Hochul said the new law is important because it recognizes New York's Asian American and Pacific Islander communities.
"It is not just a day off from school — it is an opportunity for our children to learn about and celebrate their own or different cultures and traditions," Hochul said in a news release.
The Lunar New Year, also known as the Spring Festival, celebrates the first new moon of the lunar calendar and this year will take place on Feb. 10. The holiday is celebrated primarily by the Chinese, Vietnamese and Korean diasporas and other East Asian cultures.
The legislation, which Hochul signed on Saturday, amended the education law to include the Lunar New Year as a public school holiday, which means classes will not be in session that day. 
New York is home to the second largest Asian population in the U.S., which is the fastest-growing racial and ethnic group nationwide, with 1.9 million residents, a 2021 report from the Pew Research Center found.
"New York's story could not have been written without the many and varied contributions of Asian New Yorkers. Yet in many schools throughout the state, Asian families and students have to choose between attending school and celebrating their community's most significant holiday," state Sen. Brian Kavanagh, who introduced the bill in the Senate, said. 
Lunar New Year, which is a significant holiday for many East Asian families, symbolizes a fresh start and is celebrated differently by each culture.
"In China, families clean their house before the New Year to rid of bad luck," Li, an anchor at NBC affiliate KSDK of St. Louis, previously explained. "In Korea, folks honor their elders by doing a special bow, which is rewarded with cash in pretty envelopes. In Vietnam, there's often a dragon dance celebration to ward off evil spirits." 
The new legislation comes months after New York City Mayor Eric Adams added Diwali, also known as the festival of lights, to its list of public school holidays.