Mineola Fire Department Makes Senator Martins an Honorary Chief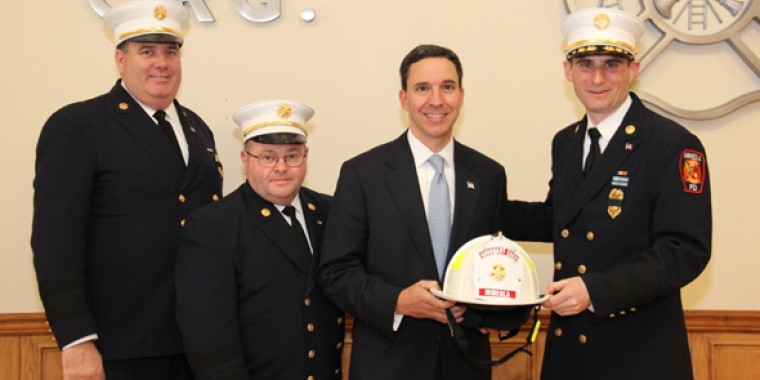 For eight years, Senator Jack M. Martins served as the Mayor of Mineola during which time he saw first-hand the commitment and dedication the men and women of the Mineola Fire Department gave to the community.
In times of emergency when residents and business owners are in need, the Mineola Fire Department is always answering the call. Whether it's a raging fire, power outage or snow storm, the brave men and women of the department are ready and willing to help.
Recently, the Mineola Fire Department, led by Chief Rob Connolly, 1st Assistant Chief Joe Pratt and 2nd Assistant Chief Jeff Clark, bestowed upon Senator Martins the title of "Honorary Chief" and presented him with a fire helmet from the department.
For Senator Martins, it was quite an honor. "To be named an Honorary Chief by Mineola's bravest is truly an honor. The countless hours the members of the department give to the community is a tribute to their selfless dedication and the spirit of volunteerism. I will forever cherish this honor. During my time as Mayor of the village, these men and women were always available and willing to help," Senator Martins said. "I want to thank the members, the chiefs and the fire council for their service to the wonderful Village of Mineola and surrounding areas."
The Mineola Fire Department has a rich history. It is comprised of three companies as well as the Mineola Junior Fire Department, which is a highly successful program for future firefighters.