NYS Volunteer and Rescue Association Thanks Senator Martins For Ambulance Safety Legislation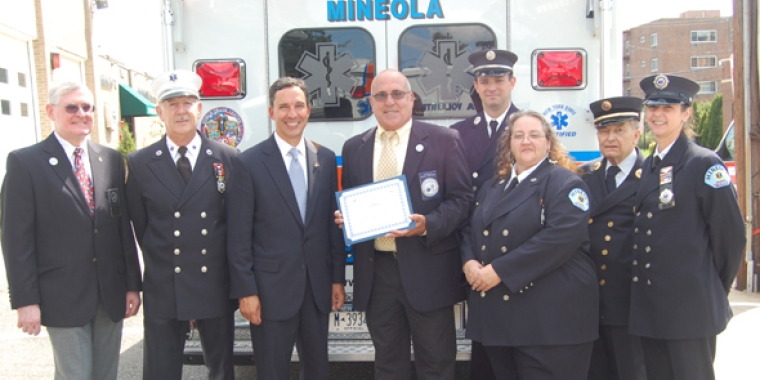 New York State Volunteer Ambulance and Rescue Association President Michael Mastrianni visited the Mineola Volunteer Ambulance Corps headquarters to thank Senator Jack M. Martins for recent legislation that was signed into law to create safer conditions for ambulance personnel.
Senator Martins sponsored legislation that gives ambulances and other emergency service vehicles the option of using rear projecting blue lights to prevent the possibility of being struck at night. Studies have shown that the blue light is the most noticeable light, and as a result, provides the highest level of safety.
Previous law allowed for blue lights to be affixed to police and fire vehicles. Senator Martins' bill gives ambulances the same protection by allowing ambulances to be equipped with blue lights so that emergency service vehicles that are responding can easily be seen.
The bill was signed into law by Governor Cuomo.
"This was important legislation. It is imperative that our emergency service volunteers are safe so they can fully concentrate on their important job of providing medical attention," said Senator Martins."I can't thank our volunteers enough. They are well-trained, prepared and always willing to help."
Mastrianni presented Senator Martins with a certificate of appreciate from the New York State Volunteer Ambulance and Rescue Association. "This legislation will help improve the visibility of emergency medical vehicles and help enhance the safety for EMS personnel while operating at roadway incidents," Mastrianni said.