Senator Martins Holds 'Office Hours' and Community Listen Session in Floral Park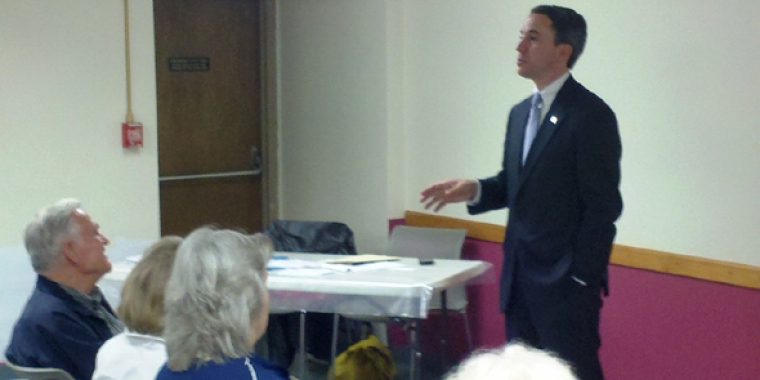 Senator Jack M. Martins was back in Floral Park as part of his community listening tour. The Floral Park Library was the scene for the latest installment of Martins' community-based listening sessions where residents can discuss issues, concerns and ideas in a free-flowing discussion. The Floral Park session saw a steady stream of community members drop by to talk to the Senator. "I was very pleased with the turn-out and happy with the thoughtfulness of the questions and discussion surrounding the issues," said Senator Martins.
During the Town Hall-style format, Senator Martins took questions from audience members about pension reform, taxes, the MTA, Belmont, legislation impacting seniors and state aid to schools. Senator Martins also met one on one with constituents with issues and problems with state government matters.
Martins also discussed his proactive working relationship with the Village of Floral Park and Board of Trustees. "Mayor Tweedy and all the Trustees are true partners in every sense of the word. We work well together and get things done. It's been a pleasure over the years standing shoulder to shoulder with Tom in the fight against the Third Track. I know we will continue to work hard together for Floral Park," said Senator Martins.
The community listening tour and mobile office hours is the latest in several stops for Senator Martins throughout the 7th Senate district. "One of the reasons why I do mobile office hours and listen sessions is to hear directly from the community. When you hear the concerns of residents from a Village like Floral Park, you get a unique perspective and input. It's important to hear what's on the minds of people and I enjoy the give and take in the discussion," said Senator Martins.
Mayor Tom Tweedy was also in attendance at the forum and offered his insight as well. "I was impressed at how Senator Martins spoke directly to the questions posed, expressing his thoughts, opinion and insight into his political philosophy. Jack provided refreshingly honest and complete responses to resident's questions and concerns," he said. His demeanor was both respectful and inquisitive as he stayed a full hour beyond schedule. Seeing the Senator engage with our residents, I am confident that any concern brought from Floral Park to Jack's attention in Albany will be accepted and reviewed with reciprocal seriousness. Seeing Jack interact with our residents today it is clear that we have a representative who will listen to our concerns and advocate those needs in Albany from Floral Park."
Senator Martins also expressed his thanks to the Floral Park Library for their hospitality. "From the time we arrived at the library, the staff and volunteers were so helpful and accommodating. I can't thank them enough. We stayed an hour past our appointed time, but the community residents who dropped by were very appreciative of their special efforts."