Senator Martins Holds Successful Blood Drive With New York Blood Center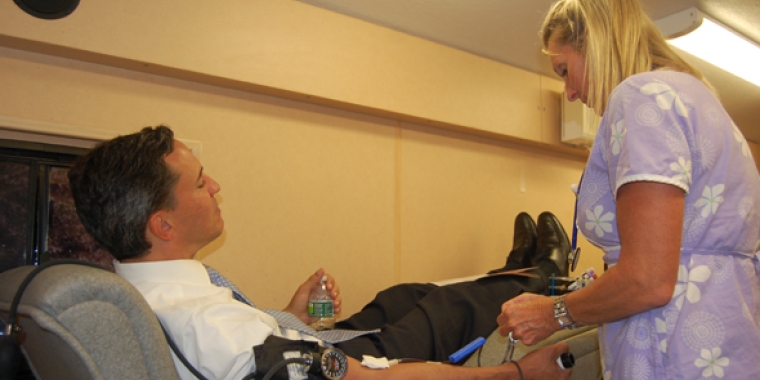 Senator Jack M. Martins and New York Blood Center joined forces on Wednesday, August 24 to hold a successful blood drive. A total of 20 pints of blood was collected in the New York Blood Center bus that was located at the Herricks Community Center.
Senator Martins held the blood drive in response to the need for blood during the summer months when not as much blood is collected. New York Blood Center (NYBC), serving more than 20 million people in New York City, Long Island, the Hudson Valley, and New Jersey alone, requires more than 2,000 volunteer blood donations each day to meet the transfusion needs of patients in its 200 partner New York and New Jersey hospitals. In fact, blood donations are even more needed during the summer months as many people go on vacation.
"I want to thank the staff of New York Blood Center as well as Herricks for allowing me to hold the drive," said Senator Martins. "I also want to especially thank all those who came out to donate. I know it takes time to come, but it does so much good. I appreciate it."
While session is out in Albany, Senator Martins continues to be visible in the communities he represents. He has also recently sponsored a food drive in coordination with the villages in the Seventh Senate District.