Senator Martins Joins Governor in Announcing Long Island Regional Economic Development Council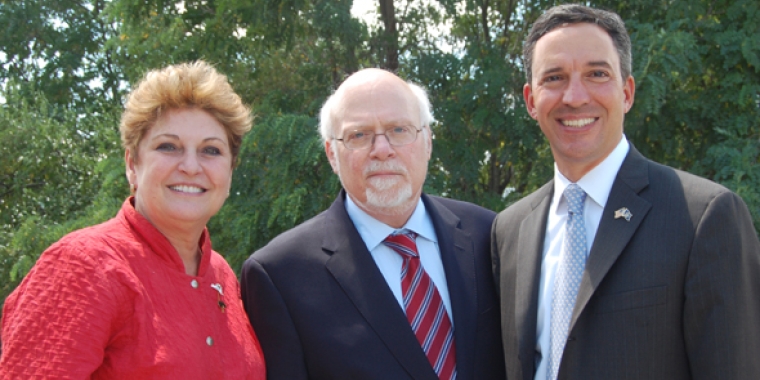 The Long Island Senate delegation joined Governor Andrew Cuomo on the campus of SUNY Old Westbury on Thursday, July 27 as the Governor launched the Long Island Regional Economic Development Council to act as the conduit between state government and the business community to spur economic development.
As part of an initiative to get make New York State more business-friendly, Governor Cuomo has created 10 regional economic development councils. Long Island is one of the regions. The Governor appointed Kevin Law, president of the Long Island Association, and Stuart Rabinowitz, president of Hofstra University, to co-chair the council.
Each of the 10 regional councils will develop a plan for the development of their region. The state will work with the Regional Councils to align state resources and policies, eliminate unnecessary barriers to growth and prosperity, and streamline the delivery of government services and programs to help the Regional Councils carry out their plans for development.
Each of the 10 regional councils will compete for $1 billion in state funding for projects they determine to be part of their regional strategy.
Senator Jack M. Martins, who joined with Governor Cuomo in making the announcement and who chairs the Senate Standing Committee on Local Government, said that economic development is a key to the Long Island's future.
"Our complete economic recovery hinges on our ability to create jobs. I look forward to working with the council to bring development projects forward that will enhance our economic viability," Senator Martins said. "I will be working with my Senate colleagues from Long Island and the council to make sure we receive our share for projects that are in line with development that makes sense for our region."
"Today we are putting into action a regional plan that confronts head-on the specific economic challenges facing Long Island," Governor Cuomo said. "These councils will have the tools they need to initiate regionally tailored projects that take advantage of our state's many resources and create jobs for New Yorkers. For too long, economic development efforts have not met the needs of New York's diverse regions, but with this new approach we will once again open New York for business."
The council is comprised of business, education, agriculture, non-profits and community-based organizations.
Rabinowitz said, "By creating these Regional Councils, Governor Cuomo is sending a strong message that building a vibrant, sustainable economy requires partnerships between industry, government and educational institutions that capitalize on each region's unique strengths. The governor's vision and leadership in this effort is exactly what Long Island, and New York State, needs. I'm proud to collaborate with him, Lieutenant Governor Duffy, Kevin Law and public and private sector leaders in Nassau and Suffolk counties in an effort to create a blueprint for prosperity."
Law said, "I am pleased to work with Governor Cuomo, his team, and my colleagues on the Long Island Regional Council to develop a long-term economic growth plan for Nassau and Suffolk counties. As stakeholders in the local business community, the members of our Council know that utilizing a regional approach will maximize the potential of our local talent to create jobs and encourage economic growth in Long Island and all across the state. I look forward to creating a strategy that will deliver real results for New Yorkers."
Other members of the council include:
Bill Wahlig, Executive Director, Long Island Forum for Technology
Marianne Garvin, CEO, Community Development Corporation of Long Island
Desmond M. Ryan, Executive Director, Association for a Better Long Island, Inc.
Patricia McMahon, Sector Vice President and General Manager of Battle Management Engagement Systems, Northrop Grumman Corporation
Harvey Kamil, Vice Chairman, NBTY, Inc.
Belinda Pagdanganan, Government Relations Manager, National Grid
James D'Addario, President & CEO, D'Addario and Company Inc.
Anne D. Shybunko-Moore, President/Owner, GSE Dynamics, Inc.
Noreen Carro, Owner, LMN Printing Co., Inc.
Tracey Edwards, Vice President of Operations, Verizon Communications
John R. Durso, President, Long Island Federation of Labor
Samuel L. Stanley Jr., M.D., President, Stony Brook University
Elaine Gross, President & CEO, ERASE Racism
Mark Fasciano, Partner, Canrock Ventures
Patricia Edwards, Vice President for Community Development Long Island, Citigroup
Paulette Satur, President, Satur Farms, LLC
Joseph Cabral, Senior Vice President and Chief Human Resources Officer, North Shore-Long Island Jewish Health System
Samuel Aronson, Director, Brookhaven National Laboratory
Dr. Calvin Butts, President, SUNY Old Westbury
Rupert Hopkins, President & Chief Executive Officer, XSB, Inc.