Senator Martins Participates in Summer Reading Program at the Manhasset Library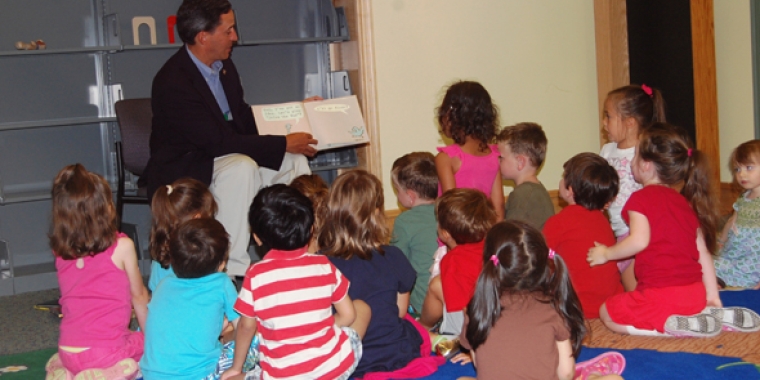 Senator Jack M. Martins visited the Manhasset Library and participated in the children's summer reading club in the children's room at the library.
Senator Martins first took part in "hot potato" with the children and then sat down to read a story with them. The story the Senator read was called, "Don't Let the Pigeon Drive the Bus," and was about a bus driver who has to leave so he asks the reader to watch the Pigeon. The pigeon tries many excuses as he tries to talk the readers into letting him drive the bus.
Senator Martins then discussed the book with the children. He told them that the moral is that you have to listen to your mommy and daddy like you listened to the bus driver in not letting the pigeon drive the bus.
Senator Martins then spoke with the children about their summer and what they wanted to be when they grew up. "I have daughters around the same age and it's such a wonderful age," he said. "I hope the children have a wonderful rest of the summer and for those starting pre-school, I wish them a joyous start to their school careers."
Senator Martins was then given a tour of the library by Cheryl Kallberg, supervisor of Children's Services. "The Manhasset Public Library is a jewel for a wonderful community. It was a pleasure visiting and I look forward to going back," Senator Martins said.