Senator Martins Tours Great Neck Arts Center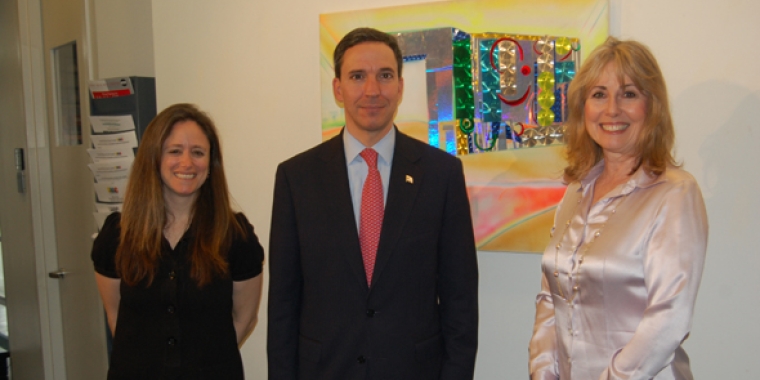 Senator Jack M. Martins spent a recent Friday morning visiting the Great Neck Arts Center, where he received a tour of the center from Executive Director Regina Keller Gil and Development Director Caroline Sorokoff.
Senator Martins was able to get a glimpse of 3D art of Dov Lederberg and Yael Avi-Yoneh, which is on display on the center until May 1. Senator Martins also toured the ceramics room, the drawing room and the studio.
The Great Neck Arts Center is a premier venue for art, music, dance, drama, film and literature. It offers a wide variety of education classes for both adults including singing and children. The center also offers an outreach program.
"The arts are such a valuable asset to a community. The Great Neck Arts Center is vortex of culture. It does a fantastic job of promoting the arts in the Great Neck community as well as other areas, enriching the lives of our residents. Just touring the center is inspiring," said Senator Martins. "I am always in awe of those who are able to express themselves artistically."
The Great Neck Arts Center is looking forward to the Gold Coast International Film Festival from June 1-5. The Gold Coast International Film Festival is partnering with the Town of North Hempstead / Nassau County and Clearview Cinemas to celebrate film and community, past and present, in the five communities of Great Neck, Manhasset, Roslyn, New Hyde Park/Herricks and Port Washington.
For more about the Gold Coast Film Festival, visit http://goldcoastfilmfestival.org.