Senator Martins Tours Great Neck Water Pollution Treatment Facility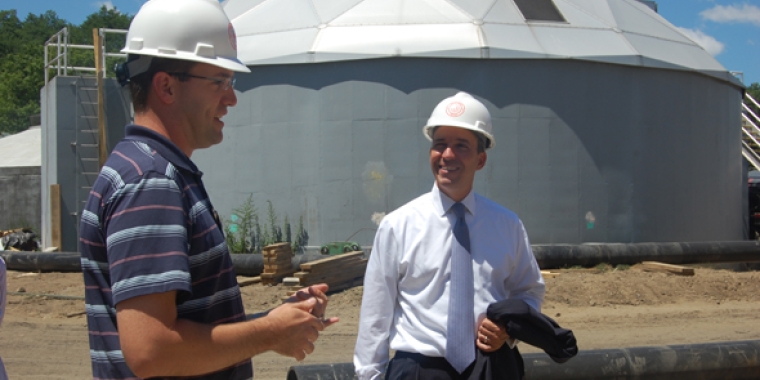 Senator Jack M. Martins was in Great Neck to tour the Great Neck Water Pollution District. Senator Martins received an up-close look at the district's new state-of-the-art wastewater treatment facility. The facility is currently under construction as is undergoing an upgrade and expansion.
The upgrade and expansion of the District's Wastewater Treatment Facility is expected to yield significant water quality and other environmental benefits to the waters and coastal areas of both Manhasset Bay and Long Island Sound.
The construction of the new facility, which started in 2010, will be fully completed December 14, 2013. The District's facility will be meeting all required guidelines and regulations by the June 14, 2014 deadline.
The Great Neck Water Pollution District is on the cutting edge of technology. For example, the district uses Biofuel to generate its own power.
"The Great Neck Water Pollution Control District is an example of a special district that is operating efficiently for the residents and businesses of Great Neck. The new project will enable the district to operate even more effectively," Senator Martins said. "I want to that the commissioners and superintendent for allowing me to visit and learn more about this service that is so vital to the communities around Great Neck."
Senator Martins met with Jerry Landsberg, Deena Lesser and E. Jane Rebhuhn of the Board of Commissioners as well as Superintendent Christopher Murphy.