Senator Martins Visits Kaos Farms in Old Westbury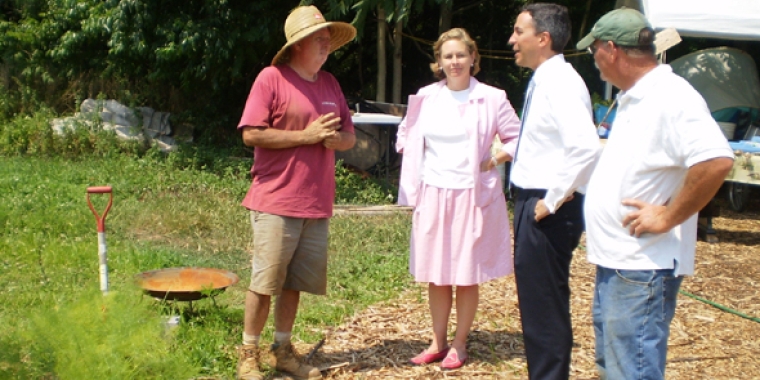 On a hot and sunny summer afternoon, Senator Jack M. Martins visited Kaos Farms, located at 10 Old Westbury Road in Old Westbury, an authentic farm that harvests organic crops.
Senator Martins met with farmers Howard "Skip" Wade and Walter Hegarty as well as Lynette Frey and Mary Callan of Community Supported Agriculture (CSA). Senator Martins also met with Lisa Ott, president of the North Shore Land Alliance.
Kaos Farms grows all-natural crops of produce and vegetables in a spacious farm off Old Westbury Road. Kaos Farms is in its second year of operation and now offers a limited number of CSA shares to local community members.
A CSA consists of a community of individuals who pledge support to a farm. They usually consist of a system of weekly delivery or pick-up of vegetables and/or fruit, in a package of vegetables, and sometimes include dairy products, flowers, herbs and more. Pickup is at Beacon Church in East Williston located on the corner of Roslyn Road and East Williston Avenue (aka Hillside Avenue).
"Kaos Farms is certainly one of the treasures we have in Nassau County. We should make every effort to learn about our farming heritage here on Long Island. This farm is made up of caring individuals who seek to preserve open space for the purpose of cultivating crops. I applaud their efforts," said Senator Martins.
For more information about Kaos Farms, visit, kaosfarms.com.