Village of Mineola Honors Senator Martins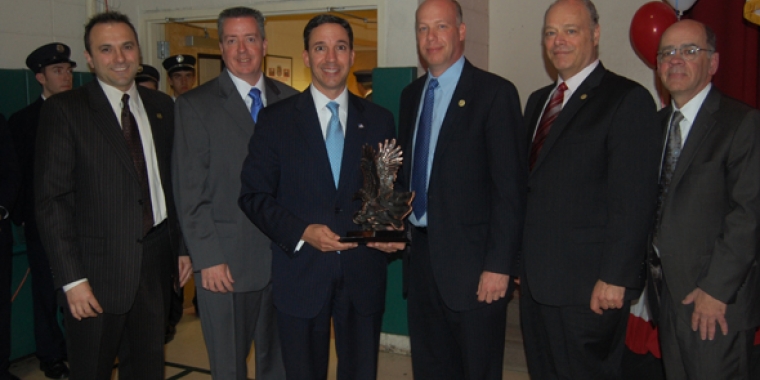 After a busy Monday in Albany, Senator Jack M. Martins travelled home to the Village of Mineola to see his good friend Scott Strauss sworn in as the new Mayor of the village. Senator Martins served as Mayor of the Village of Mineola from 2003 to 2011. He stepped down when he was elected to the New York State Senate.
It marked a new era in the Village of Mineola as Mayor Strauss took the oath of office from Nassau County Clerk Maureen O'Connell. Mayor Strauss has been involved in numerous organizations during his time in Mineola – from the Mineola Fire Department, where he worked his way up from the junior fire department to chief, to Boy Scout Troop 45, where he went from an Eagle Scout to an Assistant Scoutmaster, to the Mineola Athletic Association. He is most known for his role on the tragic day of September 11, 2011 when he risked his life to save his fellow officers as a New York City Emergency Police Officer.
"Scott Strauss is a dear friend. I know he is going to be an outstanding Mayor. I know firsthand that being Mayor of the Village of Mineola is both a challenging and rewarding experience. Mayor Strauss will meet those challenges," said Senator Martins.
With Senator Martins standing in the back of the Village of Mineola Community Center, at the end of the swearing in ceremony during which Trustee Larry Werther and Trustee George Durham were sworn in, Mayor Strauss took the podium and announced he was honoring a special resident.
Senator Martins was surprised to find out he was the honoree. "We are honoring a special resident tonight for his years of dedication in making the village the place that it is. Jack Martins left the Village of Mineola far better than he found it," said Mayor Strauss.
As Mayor of Mineola, Senator Martins is credited for being a champion of open government. He instituted the policy of televising village board meetings using the village's cable access channel so that residents could see the meetings at home. Senator Martins also displayed a proven record of fiscal responsibility and accountability. He instituted a debt management plan and was the architect of years of balanced budgets that put the village on solid financial footing. Senator Martins is also credited with establishing the vision for the village's master plan and downtown revitalization to spur economic growth.
"I am truly humbled to receive this honor. The residents of the Village of Mineola are my friends and neighbors. It will always be home and I am so thankful that the residents allowed me to serve as Mayor for eight years. I know the village is in great hands with Mayor Strauss and the board of trustees. I thank Mayor Strauss, Deputy Mayor Paul Pereira, Trustee Larry Werther, Trustee Paul Cusato and Trustee George Durham for his honor," Senator Martins said.
Senator Martins was presented with an statue of an eagle. Mineola is now one of the communities he serves in the New York State Senate.