Senator Martins Congratulates Port Washington's Newest Eagle Scout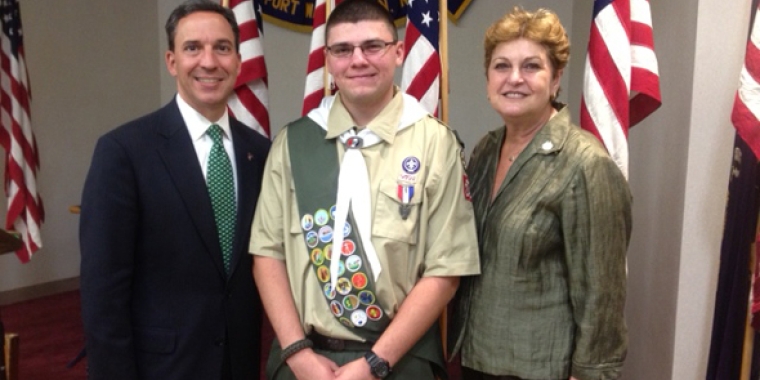 Andrew Diffley reached the highest rank a Scout can achieve when he became Port Washington Troop 241's newest Eagle Scout during an Eagle Court of Honor held on his behalf on Saturday, June 2 at the Flower Hill Hose Company.
Among the elected officials to attend the ceremony were Senator Jack M. Martins and North Hempstead Town Clerk Leslie Gross.
Senator Martins passed a Senate resolution, recognizing the accomplishment. The resolution read, "Andrew J. Diffley's perseverance in rising through the ranks to Eagle Scout is a strong indication of his ability to master difficult tasks; his accomplishment will enable him to emerge as a leader, fully equipped to meet the challenges of today's complex society; and whereas, this new Eagle Scout is a credit to his family, his school, his community, his State and his Nation, and no doubt his future will be filled with accomplishments of equal importance."
For his Eagle Scout project, Andrew held an educational fire safety program that was offered to Port Washington residents and sponsored by the Port Washington Fire Department.