Senator Martins Honors Winners of 2012 Thanksgiving Essay Contest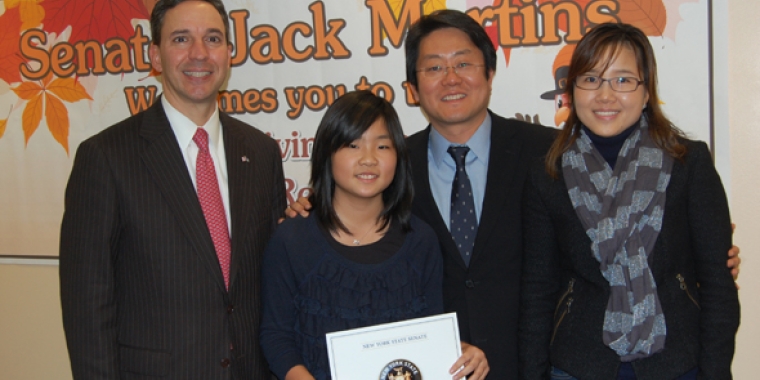 For the second straight year, sixth grade students throughout the Seventh Senate District were asked to write an essay for Senator Jack M. Martins Thanksgiving Essay Contest on what they are most thankful for. A winner was selected from each school and recognized at a reception at the Hillside Library.
The eight winning essays all eloquently described what the students are most thankful for. Students mentioned their family and friends, lives and basic necessities that are sometimes taken from granted. "Once again this year, the students did an exceptional job of putting into perspective what is most important. These essays represent all that we hold dear and serve as a tribute to the students themselves, their parents and teachers," Senator Martins said. "I congratulate and commend not only all the winners but also every student who participated. Thank you."
The winners were:
· Alex Ivolella – Stewart Manor School
· Bart Harvey – Dutch Broadway School
· Becky Han – Webber Middle School
· Charles Sandoval – Mineola Middle School
· Melissa Lau – Herricks Middle School
· Nicole Joseph – New Hyde Park Road School
· Sarah Pavan – Vincent Smith School
· Sheyla Ochoa – Gotham Avenue School
Each of the winners was presented with a Certificate of Achievement from Senator Martins. All of the essays submitted will be bound in a book and given to each school that participated as they were last year, which was when the contest began.
Winning essays are below in pdf format.