Bridge Overpass Dedicated to Brave Police Officer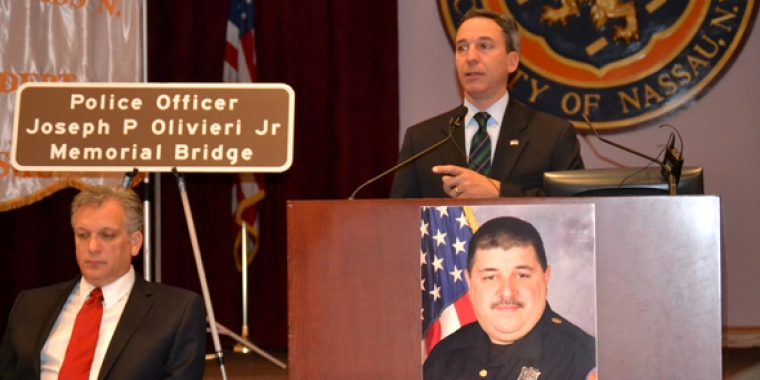 New York State Senator Jack M. Martins announced that the bridge overpass on New Hyde Park Road, which crosses over the Long Island Expressway, in New Hyde Park has been officially renamed the "Police Officer Joseph P. Olivieri Jr. Memorial Bridge" in honor of a brave officer who have his life while in the line of duties.
A former NYPD officer and a 15-year-veteran of the Nassau County Police Department, Officer Olivieri, as a member of the Nassau County Police Department's Highway Patrol, was investigating a traffic accident last October near exit 35 on the LIE, involving an intoxicated driver, when he was tragically struck and killed by another motorist.
Officer Olivieri was respected and admired by all his colleagues. He brought a vast amount of experience in dealing with dangerous issues that arise when patrolling highways.
He was survived by his son Daniel and daughter Amanda.
Senator Martins sponsored a bill to rename the bridge in honor of Officer Oliveri as a way to symbolize and serve as a reminder of his courage and the courage that his fellow officers show while performing their duties.
"A valued member of the Nassau County Police Department gave his life in defense of public safety. Let this bridge serve as a reminder of the sacrifice and commitment to service that our men and women in law enforcement show each and every day," Senator Martins said. "Officer Olivieri will forever be remembered as a dedicated officer and loving husband and father."