Senator Martins and Soulfood Society Launch 'Birth of Royalty Series'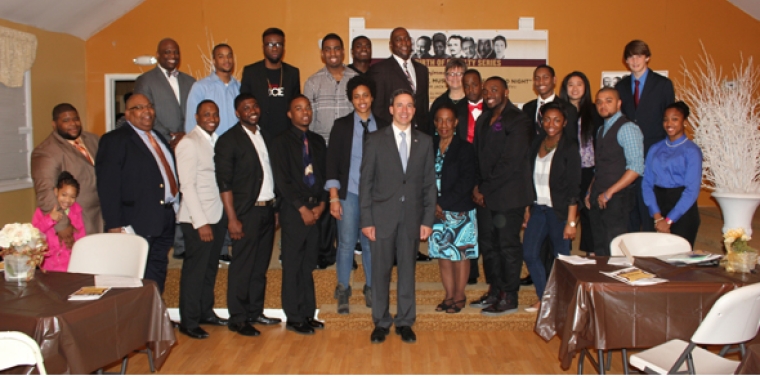 State Senator Jack M. Martins and Laurent Luke, founder of Soulfood Society, collaborated this this past Friday on a Poetry, Music and Spoken Word night entitled "The Birth of Royalty Series." The evening highlighted Poetry, Music and Spoken Word performances from local artists. It showcased artists from the Elmont, North Valley Stream, New Hyde Park, Franklin Square and South Floral Park communities. The program was developed by Senator Martins and was co-chaired by and Arts Committee led by Laurent Luke and Scott Cushing.
"This is an evening where we wanted poets, musicians, developers of spoken word and community to come together and celebrate their works," said Senator Martins adding, "the program is intergenerational from our high schools and colleges right through to our community elders. I couldn't be more proud of our young people and their talents."
Laurent Luke, founder of Soulfood Society, added, "this is a first for Elmont, South Floral Park, New Hyde Park, Franklin Square and North Valley Stream. Tonight, we are bringing together artists for a celebration of cultures, ideas and thought. The Birth of Royalty Series identifies the Kings and Queens in all of us."
Artists performing in the "Birth of Royalty Series" range from students in Elmont Memorial and Sewanhaka High Schools, college students and graduates right through to Community Elders. "A true celebration of the Arts takes in all forms from all members of our community and that is what we did with this series," said Senator Martins.
Master of Ceremonies for the evening was Marlon "Marlowe" Fearon a radio and television personality who is from Elmont. "It's a real honor to serve as MC for the Birth for the Birth Royalty Series. Celebrating and nurturing the Arts in the greater community is something we all share and I want to thank Senator Martins and Laurent Luke for making this happen."
Poets for the evening include: Dr. Linda Opyr, Nassau County's Poet Laureat, Stevens Cadet, Delilah Green, Gregory Calvaire, Saroya Marsh, Tyrone St. Louis, Gregory Calvaire, Jonathan Jones, Sydney Peterson, Jeremy Jones, Shani Dunbar, Amber Rae Lawson and Bernadette Yu.
Poets brought audience members to their feet with performances that touched on the everyday lives and experiences of people. Spoken word selections were very powerful and reflected on life and and how to enrich oneself and build a better a community.
Spoken Word Artists include: Anthony Walker, Sabrina Labossiere and Robert Dowling.
Musical talents being showcased include: Nachbi Lacossiere, Tim J and the Band, YGB- Young Gifted and Black, VicPo the Drenchman, Warren Wint, Benjamin Alonge and Steven Sanabria.
The "Birth of Royalty Series" will have additional performances in Port Washington, Westbury and a return encore in Elmont.