Senator Martins Joins Governor Cuomo for Signing of Utility Restructuring Legislation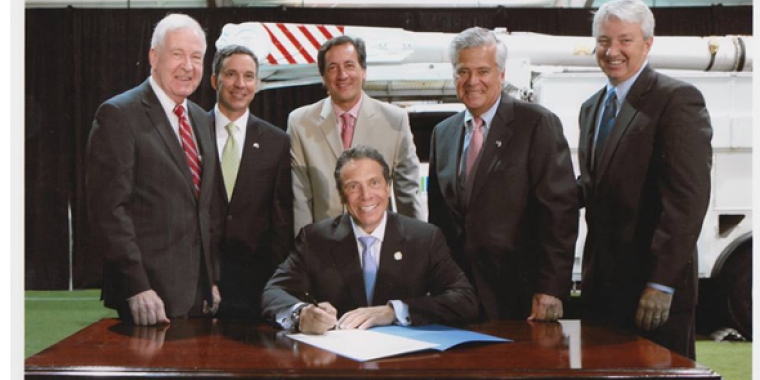 Senator Jack M. Martins joined with his colleagues and Governor Andrew M. Cuomo as the Governor signed legislation that dramatically revamps the electric utility on Long Island. The legislation privatizes utility operations on Long Island, improves customer service, including stabilizing rates and enhancing emergency response and preparation; reduces the cost of Long Island Power Authority (LIPA) debt; and implements tough state oversight for the new utility company. It also achieves savings to allow the new utility to seek a rate freeze for 2013, 2014 and 2015.
In response to LIPA's failures during and after Superstorm Sandy, Governor Cuomo convened a Moreland Commission to investigate the utility company's response, preparation, and management, among other utility companies. As a result of this investigation, the Moreland Commission concluded that LIPA's failures were the result of a dysfunctional bi-furcated management structure that allowed poor customer service, high rates, lackluster storm preparations, and inadequate infrastructure to persist without being addressed.
Senator Martins joined his colleagues in expressing concern over LIPA's response to Superstorm Sandy following the days of the storm during which many residents were left without power for over a week. The Senator received many phone calls from constituents and vowed to address the problem along with his colleagues and the Governor.