Senator Martins Leads Long Island Delegation in Bills Passed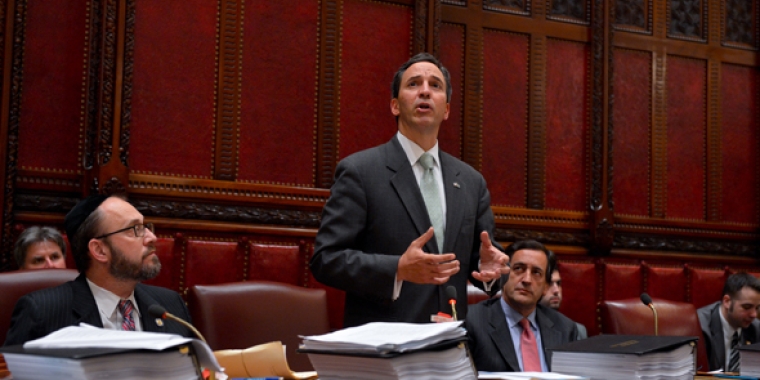 For the second year in a row, Senator Jack Martins has had more two-house bills pass the State Legislature than any Long Island State Legislator, Senate or Assembly.
In the 2013 Legislative Session, Senator Martins sponsored 40 pieces of legislation that were passed by the State Senate. More than two-thirds of these (27) were approved by both Houses of the Legislature, which ranks him an impressive fourth overall among his 62 Senate colleagues in successfully passing two-house bills. According to the New York Public Interest Research Group (NYPIRG), Senator Martins is also the fourth highest overall in the entire 213-member Legislature in getting bills passed.
Several key measures passed that the Senator introduced this year included: Legislation (S.1987-A) that would prohibit smoking within fifteen feet of all general hospitals, residential health care facilities and other state licensed health care facilities; Legislation (S.5776) to allow local Industrial Development Agencies to finance projects in local downtown areas that were impacted by Superstorm Sandy; Legislation (S.5865) to create a financial restructuring board to  assist fiscally distressed municipalities at their request; Legislation (S.5646) that would allow local governments to donate surplus computer equipment to schools, libraries and not-for-profit organizations; Legislation (S.4786-A) that would significantly increase the penalties for anyone caught driving without a legal driver's license; and Legislation (S.933-A) to protect children that would ban the sale of novelty lighters in retail stores.
As of this writing, of the 27 Martins bills that were passed by both the Senate and Assembly, 9 have already been signed into law by the Governor.
Senator Martins also took the lead in last year's session and was responsible for introducing 32 bills that were passed by the State Senate and 23 bills that were approved by both the Senate and the Assembly.  As evidence of their merit, an incredible 22 of these 23 were signed into law by the Governor, an extraordinary rate of success by any measure.
"Since taking office in January 2011, I have worked with my colleagues and the Governor to make Albany gridlock and dysfunction a thing of the past," said Senator Martins.  "I believe that this hard work and compromise has resulted in landmark new laws that will keep New York State moving in the right direction."