New York State Council of Veterans' Organizations Honor Senator Bill Larkin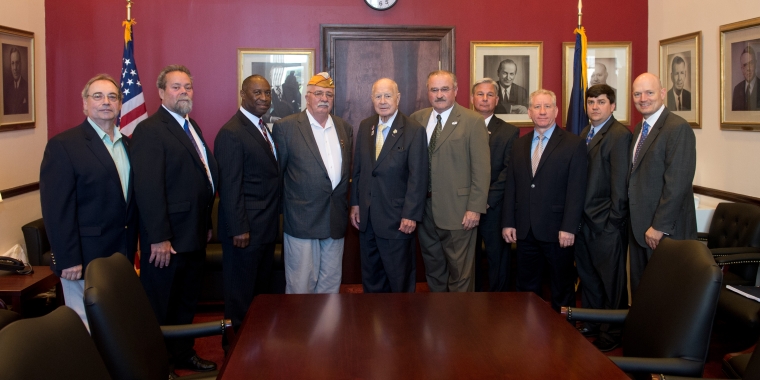 Senator Bill Larkin (R-C-I, 39th District) was honored today by the New York State Council of Veterans' Organizations (NYSCVO)  at the State Capitol for his long-standing work and tireless advocacy on behalf of veterans and their families.  A retired Army Lieutenant Colonel with over 23 years of military service, Senator Larkin is considered one of the state's top lawmakers regarding policies on veterans and military affairs.
"In recent years, the legislature has made important strides in caring for and providing help to New York's veterans and their families," said Senator Larkin. "Initiatives like the PFC Joseph Dwyer Peer to Peer program, Veterans' Equality Act and  the Cold War Tax credit are critical in providing veterans with the help they need, while giving them access to important benefits that they have earned."
"While I am honored to receive recognition for my work advocating for veterans, the real heroes are the men and women who made the sacrifice to protect and defend our great nation and its people. Thank you, New York veterans," said Senator Larkin.
"I would like to thank Colonel Larkin for his steadfast leadership and unwavering support over the years, said Bob Becker, Legislative Coordinator for the New York State Council of Veterans' Organizations and retired Marine Corps Senior Master Sergeant. "The end always justifies the long journey to get there and we believe that New York has sent the right message to homecoming veterans who have served their country and served their government."
NYSCVO Member Organizations include:  American Merchant Marine veterans; American Military Retirees Association; American Ex-Prisoners of War; Atomic Veterans Association; AMVETS; Black veterans for social Justice; Blinded veterans Association; Catholic War veterans; Combat Infantrymen's Association; Council 82 AFSCME AFL-CIO Vets. Committee; CSEA Veterans; Disabled American veterans; Eastern Paralyzed veterans Association; Fleet Reserves Association; Jewish War Veterans; Korean War veterans; Marine Corps League; Military Order of the Purple Heart; Non-Commissioned Officers Assoc.; MIS Co. Vets. Service Officers Assoc.; PEF Veterans Committee; Sampson Navy WWII Veterans; The Retired Enlisted Association; Tn County Council Vietnam veterans; Veterans of Foreign Wars; Veterans of Overseas Services of America; Women Veterans of America; 369th Veterans Association; 6924 Heritage Association; United Service & Veterans Action Council; UFT Veterans Committee; and Veterans for Peace.