Serino and Community Thank Local Veterans at Free Appreciation Pasta Dinner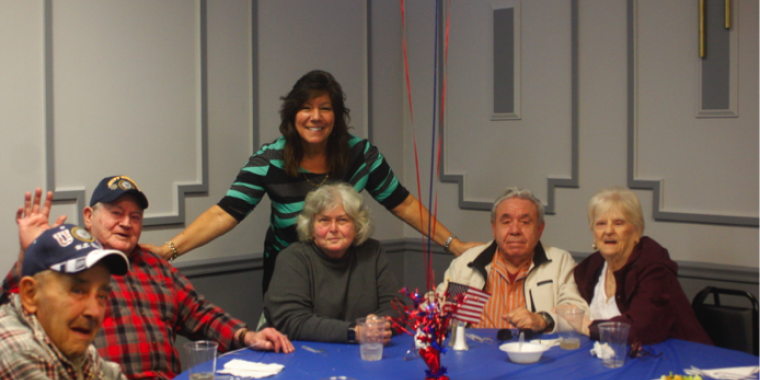 WAPPINGERS FALLS, NY – Senator Sue Serino once again joined Mental Health America of Dutchess County's Vet2Vet program to honor local veterans at their annual Veterans Appreciation Pasta Dinners.
This year's events were held at the American Legion Post 1302 in Poughkeepsie (Sunday, October 14th) and at the Wappinger Elks Lodge #2609 in Wappingers Falls (Sunday, October 21st). Senator Serino, Vet2Vet and their team of volunteers served over 400 veterans and their guests over the two Sundays at the four free dinners.
"These appreciation pasta dinners are about showing our support and appreciation for our community's heroes," said Senator Sue Serino. "I cannot thank our group of volunteers, the American Legion Post 1302, and the Wappinger Elks Lodge enough for donating their time, and for showing their dedication to serving our veterans and their families. These dinners provide an important opportunity for local veterans to connect with one another and they allow our vets to connect with local resources, like the Vet2Vet programs, and learn about benefits that Dutchess County's Division of Veterans Services has to offer. They are an important reminder for our heroes, that they have an incredibly grateful community behind them always."
"MHA of Dutchess County is proud to sponsor Senator Sue Serino's Veterans past dinner,"said Adam Roche, Program Manager of Dutchess County Vet2Vet. "Special events like this give the Veterans pride that our community acknowledges, and appreciates the sacrifices they have made for this great country."
These events are made possible through the Dutchess County Vet2Vet program, which was established locally after Senator Serino secured funding through the state's Joseph P. Dwyer Veterans Peer Support Program. 
The Vet2Vet program was established by veterans, for veterans as a way to create a network our veterans can count on. These dinners showcase the important work that the Vet2Vet program is doing locally, as well as highlight some of the tools available to veterans suffering from PTSD, TBI, addiction and/or mental health issues. For more information, please click here. If you are interested in learning more about the program or know of a veteran in need please call Adam Roche at 845-473-2500 ext. 1307. Referrals are not necessary, and the program is open to veterans of all ages.
"I cannot express my gratitude enough to Senator Sue Serino and Mental Health America for hosting these appreciation pasta dinners," said Marc Coviello, Director of Dutchess County Veterans Services. "As a veteran, these dinners provide the opportunity to connect with individuals who have motivated and inspired me during my time in the service. Seeing veterans who served during different time periods connect and exchange stories is truly an incredible thing."
Non-perishable food items were also collected and will be donated to Castle Point Veterans Food Bank. Adam Nowik and Bob Monaco, from the Dutchess County Sheriff's Department generously prepared each dinner, and door prizes were donated Adam's Fairacre Farms, Double O Grill, Red Robin, Applebee's, Olive Garden, Chili's, Outback Steakhouse, and Texas Roadhouse. Enterntainment was provided by Carmine Romeo and 'Uncle Mike' of WRWD. Members from the Semper Fi Parents, and scouts from Girl Scout Troop 10307 from St. Martin De Porres School and Boy Scout Troop 26 volunteered at the event.
                                                                                                                          -30-