State Senator Gustavo Rivera Tours an Overdose Prevention Center in Toronto, Canada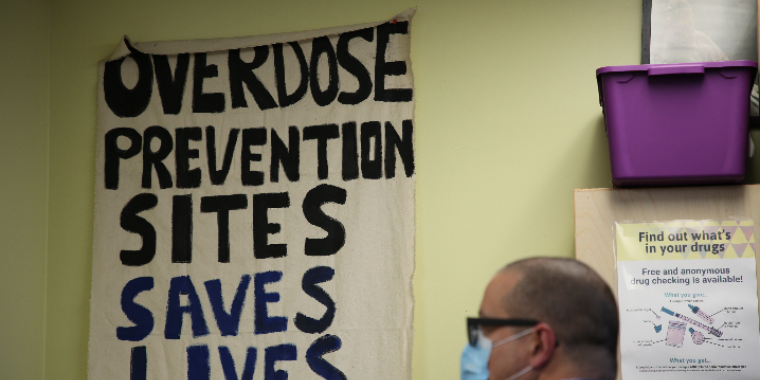 The nonpartisan nonprofit Council of State Governments Eastern Regional Conference (CSG East) planned this visit to provide legislators insight into these facilities' operations as they are considered for implementation in the U.S.A.
(Toronto, Canada) - As part of the Council of State Governments' 2023 Eastern Regional Conference 62nd Annual Meeting and Regional Policy Forum, State Senator Gustavo Rivera and other CSG East members visited the South Riverdale Community Health Centre in East Toronto. This non-profit, multi-service organization provides primary healthcare, social, and community outreach services with an emphasis on health promotion and disease prevention as well as programs aimed at reducing the harm caused by opioids and other substances, including an overdose prevention center.  
At the community health center, Senator Rivera and his colleagues visited the space dedicated to overdose prevention, also known as a supervised consumption site, which provides individuals suffering from substance use disorders a safe and private environment to consume drugs under medical supervision while connecting them to a myriad of supportive services to help them on the path to recovery. As Chairman of the New York State Senate Health Committee and sponsor of the Safer Consumption Services Act (S.399A), which is a bill to establish an authorization process for Overdose Prevention Centers to open and operate in New York State, Senator Rivera continues to visit these facilities to assess their operation, management, and success. Senator Rivera previously visited a similar facility in Toronto in 2019 with his Senate colleagues.
"I am proud that CSG East is supporting harm reduction as an effective approach to combat the overdose epidemic in our country by organizing this visit to the South Riverdale Community Health Centre which hosts an overdose prevention center. Visits like these are critical so legislators can see their impact with our own eyes and help destigmatize drug use and address it as the public health crisis that it is. As we work towards the implementation of these public health facilities and policies in New York State, I hope that my CSG colleagues recognize the necessity of health-focused approaches rather than further criminalization to end the epidemic of overdose deaths. We have the tools, we just need the will to bring life-saving measures to New Yorkers and Americans who need them," said State Senator Gustavo Rivera.
related legislation