Senator Parker Hosts 14th Annual Prom Dress Giveaway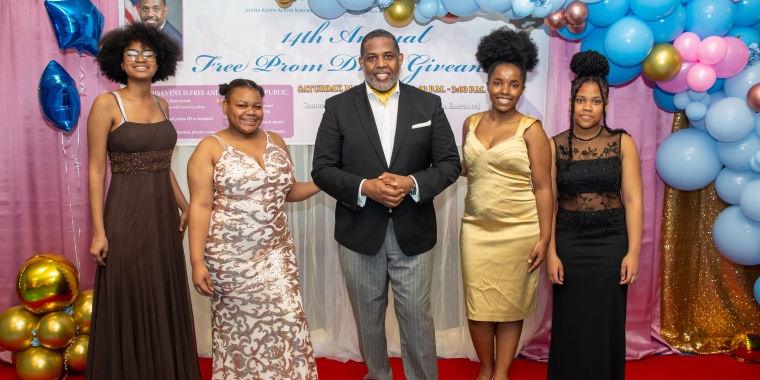 Brooklyn, NY- On Saturday, May 20, 2023, Senator Kevin Parker, in partnership with Alpha Kappa Alpha Sorority Inc Delta Rho Omega Chapter, and Shatonia Amee held the 14 th Annual Free Prom Giveaway at Samuel J. Tilden High School. The event supplied free prom dresses, shoes, and accessories to graduating high school girls who may not have the means to afford prom attire.
"Every high school student deserves a memorable prom experience," stated Senator Parker. "I am proud to partner with Alpha Kappa Alpha Sorority Inc. Delta Rho Omega Chapter and Shatonia Amee on my 14 th Annual Prom Dress event," continued Senator Parker, "This occasion serves as a reminder to our youth that we genuinely care about their achievements and career goals and are dedicated to supporting them every step of the way."
The annual prom giveaway is a significant effort by Senator Parker and Alpha Kappa Alpha Sorority Inc Delta Rho Omega Chapter to support students in the community. Senator Parker believes that students deserve to have the opportunity to celebrate prom positively and safely, regardless of their financial circumstances.
                                                  About State Senator Kevin Parker
Senator Kevin S. Parker is intimately familiar with the needs of his ethnically diverse Brooklyn district comprising sections of Flatbush, East Flatbush, Kensington, Ditmas Park, Midwood, Flatlands, Canarsie, Georgetown, Old Mill Basin, Mill Basin, Marine Park, and Bergen Beach. A lifelong Brooklyn resident, he is the Chairman of the Senate Energy and Telecommunications Committee and sits on the Senate Finance; Rules; Banks; Internet and Technology; and Budget and Revenue.
                                                                                                                                                                                                                               ####