State Senator Kevin Parker Hosts Annual MLK Day Tribute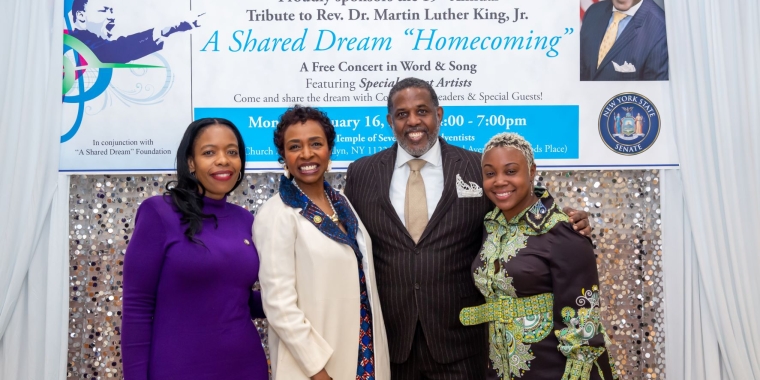 Brooklyn, N.Y, Jan. 16th, 2023 - New York State Senator Kevin Parker and A Shared Dream Foundation held the 19th Annual Tribute Concert, "A Shared Dream - Homecoming," to honor the life and legacy of Rev. Dr. Martin Luther King Jr. After having been virtual for the past two years, the "Homecoming" tribute concert to Dr. King's legacy took place in person at the Goshen Temple of the Seventh-day Adventist in Flatbush, Brooklyn on MLK Day. 
Liz Black of WBLS hosted this year's tribute featuring the soulful sounds of headliners Anointed Friends, Renewed in Christ, and Bev Burton. The tribute also showcased local performances, like Jamel Gaines Creative Outlet, Ifetayo Cultural Arts Academy, and the Empire Marching Band."For 19 years, the A Shared Dream free MLK tribute concert in word, song, and dance has been a rite of passage for many Brooklyn residents allowing them to honor Dr. King in a public way," said Senator Parker. "It's important that we continue to recognize and honor the trailblazers of our community. In sponsoring this concert every year, I hope it serves as a reminder that eternal vigilance is the price of liberty." 

Attendees described the event as "A blessing" and "very inspiring." By listening to the leaders and celebrating MLK, we were honored to be here and represent what he fought for, said a member of Kingsboro Temple SDA Church Mass Choir who was among the performer's Community advocates and elected leaders who showed up and brought greetings to the capacity crowd in attendance, included: U.S. Senate Majority Leader Senator Charles 'Chuck' Schumer, N.Y.S. Lt. Governor Antonio Delgado, N.Y.S. Attorney General Tish James, N.Y.C Public Advocate Jumaane Williams, U.S. Congress Member Yvette Clarke, and N.Y.C. Council Member Rita Joseph. They all shared their thoughts on what Dr. King's dream means in this present climate.  

                                                 About State Senator Kevin Parker 
Senator Kevin S. Parker is intimately familiar with the needs of his ethnically diverse Brooklyn district comprising sections of Flatbush, East Flatbush, Kensington, Ditmas Park Midwood, Flatlands, Canarsie, Georgetown, Old Mill Basin, Mill Basin, and Bergen Beach. A lifelong Brooklyn resident, he is the Chairman of the Senate Energy and Telecommunications Committee and sits on the following Senate committees: Finance; Budget and Revenue; Rules; Internet and Technology; Banks.
                                                               
                                                      About A Shared Dream Foundation 
A Shared Dream Foundation's mission is to uphold the legacy of the life of Dr. King and his dream of an equal and unified world through faith and compassion. In furtherance of their mission, for the past 19 years, the Foundation has hosted an annual free MLK tribute concert and provides scholarships to graduating high school seniors.  
                                                                                 ####