About Joseph P. Addabbo, Jr.
Chairman of Committee on Racing, Gaming and Wagering
Democrat Democrat
District 15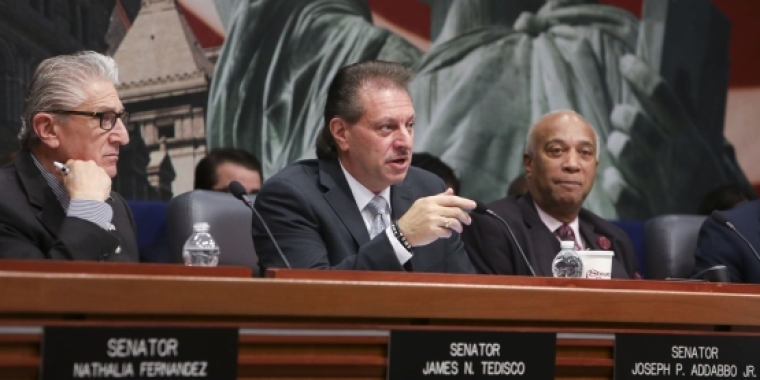 JOSEPH P. ADDABBO, JR.
Elected to the New York State Senate in 2008 after serving seven years in the New York City Council, State Senator Joseph P. Addabbo, Jr. continues to proudly carry on the public service tradition of his father, Congressman Joseph P. Addabbo, Sr., who served 13 terms in the United States House of Representatives from 1960 to 1986.
A lifelong resident of Queens, Senator Joe Addabbo represents the 15th Senatorial District encompassing the communities – in whole or in part – of Lindenwood Ozone Park, Woodhaven, Glendale, Maspeth, Middle Village, Rego Park, Forest Hills, Kew Gardens, Richmond Hill, South Richmond Hill and South Ozone Park.
In the State Senate, Joe has continued to make constituent service a priority, just as he did as a representative of the 32nd New York City Council District, where he secured millions of dollars for infrastructure improvements, school technology, and senior and youth services. Through his Senate offices, Joe and his staff have assisted thousands of constituents with problems involving housing, health, transportation, taxes, public safety and many other issues, including efforts to aid local residents whose lives were so deeply affected by Hurricane Sandy in late October of 2012. As a member of the Senate Bipartisan Task Force on Hurricane Sandy, Joe worked to help his community recover and rebuild from the devastating storm.
As a member of the Senate, Joe is deeply concerned with the welfare of New Yorkers in all stages and walks of life. Joe's legislative record, which includes bills he has introduced and supported, reflects his commitment to fighting on behalf of children, the elderly, families, working people, consumers and veterans. He has also devoted himself to efforts to protect the environment, create new jobs and economic opportunities for small businesses, provide tax relief for state residents, and improve transparency and accountability in New York's government. As a State Senator, Joe is well known for organizing and sponsoring dozens of community events for his constituents each year, including job fairs for local residents and veterans, comprehensive recycling events, informational sessions for seniors and consumers, health screenings, MetroCard van visits, Mobile Office Hours, Java With Joe and many other free programs.
During COVID-19, Joe and his staff made sure his offices safely remained open throughout the pandemic, assisting individuals with unemployment benefit claims and food availability.
In addition to other legislative responsibilities, Joe serves as the Chairman of the Senate Committee on Racing, Gaming and Wagering. Through the committee, Joe and his staff are responsible for improving the multi-billion dollar industry in terms of revenue potential, increased educational funding and job creation connected to gaming and horse racing operations throughout the state, while addressing the issue of gambling addiction. On January 8, 2022, New York began its mobile sports betting operation, a project Joe and his team worked on for over 2 years as one of the state's primary advocate. Joe is also a member of the Senate Committees on Rules, Insurance, Budget and Revenue, Civil Service and Pensions, Education, Veterans, Homeland Security and Military Affairs. He is also a member of the State-Native American Relations Temporary Committee.
Joe has proven himself in the political and civic world. He is a multi-term New York State Democratic Committee member and a ranking member of the South Queens Regular Democratic Club. His community service can be seen in his work on behalf of the Ozone Park Kiwanis, as the former president of the Ozone Tudor Civic Association, and his past tenure as Executive Secretary of Community Board #10Q.
Born in 1964, the youngest child of Joseph and Grace Addabbo, Joe attended Nativity BVM School in Ozone Park (Class of 1978), Archbishop Molloy High School (Class of 1982), and St. John's University (Class of 1986), before graduating from Touro Law School (Class of 1992.) Prior to his election to the City Council in 2001, Joe practiced law for 10 years.
Joe is married to his wife, Dawn and they have two daughters.