About Mark Walczyk
Republican, Conservative Republican, Conservative
District 49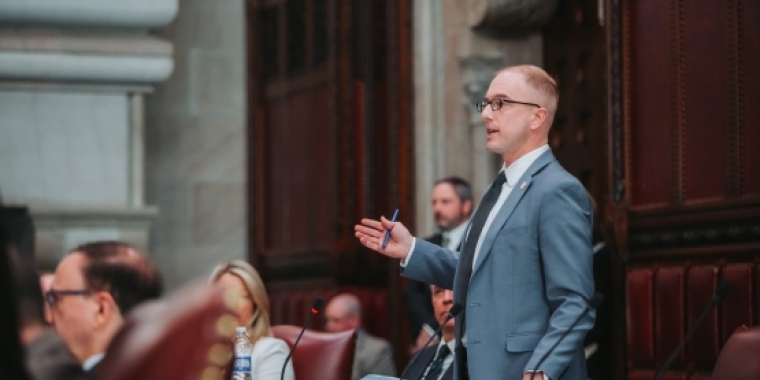 Senator Mark C. Walczyk has been a voice of reason in Albany since he first stepped foot in the Legislature. He is a fighter that stands up for families, calls out corruption, promotes the economy as well as the future of our region and defends the Constitution.
Soon after graduating from the University of Albany, Mark began a career in public service with a focus on statewide policy and desire to improve life for residents of Upstate New York. Mark joined the staff of State Senator Patty Ritchie in 2011 where his passion for constituent services first emerged. In 2015, Mark was elected to the Watertown City Council, a nonpartisan council.
Elected to represent the 116th Assembly District in 2018, Mark wasted no time delivering wins for his district, to which he coined the name, "The Front Yard of America." His legislation saved Watertown taxpayers roughly 3 million dollars as he carried a bill to cut two full time judges down to one full time and one part time justice for the City. Mark also was a strict fighter for economic growth in his district. He successfully passed legislation to extend the 1000 Islands Seaway Wine Trail, providing better economic opportunity to local agriculture and incentive for tourism in the 116th Assembly District.
In the Senate, Mark hit the ground running, working to pass 15 bills through the Senate which was tied for most in the Conference. He fought tirelessly to pass S6249, allowing the Town of Lorraine to establish minimum maintenance roads and more effectively utilize it's resources to maintain roads that are utilized more frequently by its residents. He also advocated for public safety in the Village of Ilion, passing bills S7418 & S7419, to allow two part-time police officers the opportunity to become full-time members of the department. Mark is the Ranker on the Elections and the Cultural Affairs, Tourism, Parks and Recreation committees. He is also a member of the Agriculture, Cities 2, Internet and Technology, Legislative Commission on Rural Resources, and a member of the Senate Energy and Telecommunications committee, where he has become a leader in fighting against the CLCPA and policy that will burden taxpayers for generations to come.
Mark is an Eagle Scout. He is married to the love of his life, Jessica. They have two children, Atticus and Byron, and a mostly well-behaved hound, Alfred.