About Michelle Hinchey
Chair of Committee on Agriculture
Democrat, Working Families Democrat, Working Families
District 41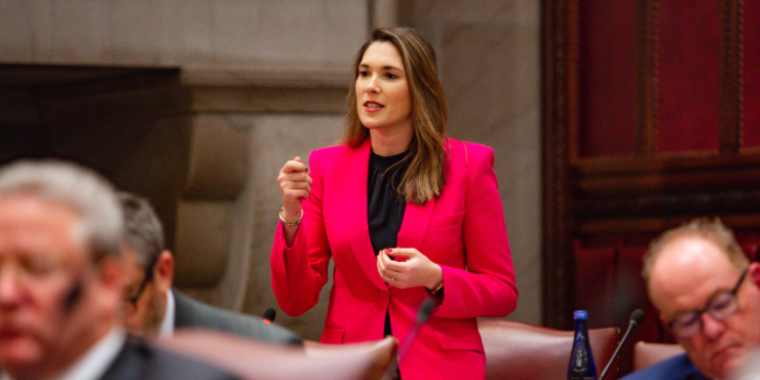 Senator Michelle Hinchey proudly represents the upstate and Hudson Valley communities of the 41st Senate District, which includes Columbia and Greene Counties, Northern Dutchess, and portions of Ulster County.

Senator Hinchey made history in 2020 as the youngest woman to represent an upstate district, and over just one term, has proven to be one of the most effective legislators in Albany, with over 50 of her bills signed into law, championing issues spanning broadband and healthcare expansion, climate progress, healthy food access, and farmland protection. Hinchey has delivered record investments to support her region, including bringing universal pre-K to communities outside of New York City and the phase-in of universal child care for the first time.

Hinchey earned the title of 2022 Advocate of the Year from the Rural Housing Coalition for her work to bring unparalleled investment, attention, and policy solutions to address the housing crisis in rural and upstate New York. Hinchey is the leading voice in the State Senate focused on delivering increased transparency and affordability in the public utility sector, fixing aging water infrastructure, bolstering volunteer fire services and rural EMS, and jumpstarting manufacturing capabilities in industrial hemp.

Hinchey is also the recipient of the esteemed Nelson A. Rockefeller Award from the New York Water Environment Association for her work to advance clean water initiatives and investments, and was selected as the 2023 Legislator of the Year by American Red Cross for her commitment to supporting emergency services in New York State.

Senator Hinchey serves as the Chair of the Senate Agriculture & Food Committee and has paved the way to make agriculture a core part of New York's fight against the Climate Crisis, creating cross-sector connections to protect our planet and ensure New York continues to have a stable, in-state food supply. Hinchey's Soil Health and Climate Resiliency Act was the first major modernization of soil health laws since the Dust Bowl of the 1930s.

Senator Hinchey was born and raised in Saugerties before graduating in 2009 from the Industrial and Labor Relations School at Cornell University, where she studied the history of the American labor movement and the importance of collective action in establishing an equitable labor market and economy.

Before her election to the State Senate, Hinchey spent a decade working her way up as an executive in the technology and media fields. Earlier in her career, Hinchey worked as a grassroots organizer for Environment New York, where she successfully campaigned to end the dangerous practice of fracking in New York. While working in the private sector, Hinchey continued her environmental advocacy as a member of the Board of Directors of the Catskill Center for Conservation and Development.

Senator Hinchey credits her love of public service and community-based activism to her father, the late Hudson Valley Congressman Maurice Hinchey, widely regarded as a champion for working people and the environment, who instilled in Hinchey that there's no higher calling than public service, giving back to your community, and standing up to fight for what's right.