A Virtual Conversation with Local Authors: Discussing their Paths to Becoming Published Authors
11:00 AM&nbsp-&nbsp1:00 PM
Add to Calendar
05/21/202011:00 AM
05/21/20201:00 PM
America/New_York
A Virtual Conversation with Local Authors: Discussing their Paths to Becoming Published Authors
Facebook Live
MM/DD/YYYY
NY STATE SENATE
content@senate.state.ny.us
0693_persaud_virtual_conversation_with_authors_flyer.pdf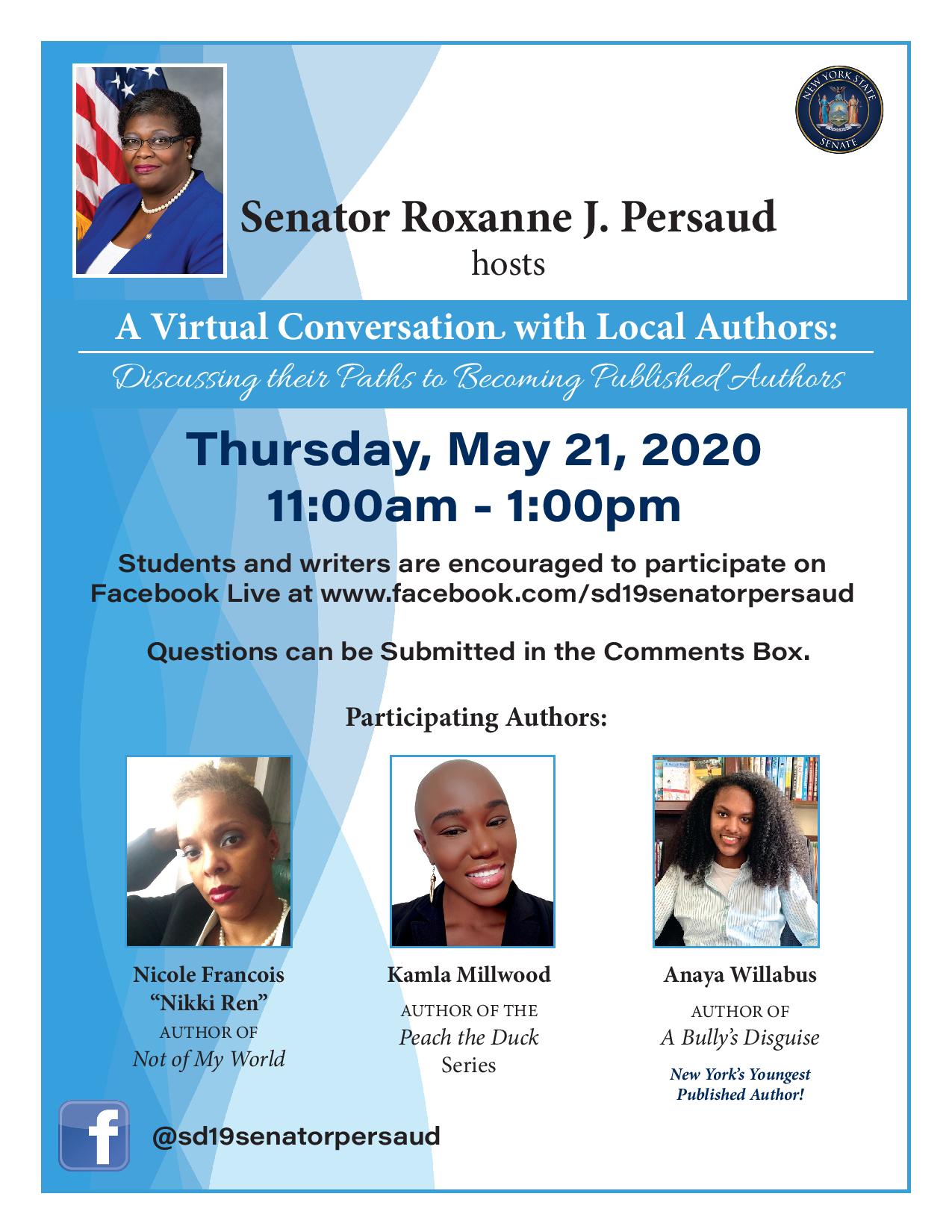 Senator Roxanne J. Persaud to host a "Virtual Conversation with Local Authors: Discussing their Paths to Becoming Published Authors"
(Brooklyn, NY) --  NYS Senator Roxanne J. Persaud (D - Canarsie, East New York, Brownsville, Mill Basin, Sheepshead Bay, Bergen Beach, Marine Park, Flatlands, Mill Island, Georgetown, Ocean Hill, and Starrett City), in partnership with Nicole Francois, Kamla Millwood, and Anaya Willabus is hosting,  "A Virtual Conversation with Local Authors: Discussing their Paths to Becoming Published Authors," on Thursday May 21, 2020, from 11:00 AM to 1:00 PM on Facebook Live.
I am proud to represent many published authors from Senate District 19 in Albany.  This virtual conversation will bring three such constituents, area students, and aspiring authors together to have many questions answered regarding publishing and breaking into the literary world," said Senator Persaud; "I encourage students and writers alike to partake in this Facebook Live event to help answer queries on the publication industry, mastering the art of storytelling, and how to strengthen one's writing skills."
This virtual conversation will be streamed at www.facebook.com/sd19senatorpersaud and constituents are encouraged to submit questions by clicking the button below. Questions will be accepted until 9:00 AM on Thursday.
SUBMIT YOUR TOWN HALL QUESTIONS HERE